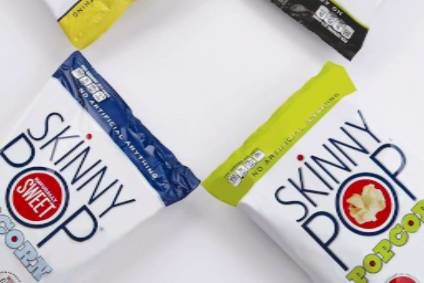 Hershey has confirmed it has struck a deal to buy fellow US business Amplify Snack Brands for US$1.6bn.
The deal, announced today (18 December), will "strengthen Hershey's position in the snacking aisle", the Reese's chocolate and Krave jerky owner said.
Pennsylvania-based Hershey said it expected the transaction "to drive significant shareholder value" through growth and margin expansion, as well as cost synergies.
It said it expected annual run-rate synergies of approximately $20m to be generated over the next two years from cost savings and portfolio optimisation.
And Hershey expects the deal to be accretive to adjusted earnings per share in the first-year post closing.
Amplify floated in the US in 2015. In August 2016, Amplify acquired UK crisp maker Tyrrells from Bahrain-based private-equity firm Investcorp in a cash-and-shares deal worth GBP300m (then $392m).
The company counts private-equity firm TA Associates as its largest shareholder. Though listed in New York, shares owned by TA Associates and Amplify management account for 57% of the company's stock; they have backed Hershey's offer.
The acquisition is not expected to affect the previously announced full-year 2017 outlooks provided by Hershey and Amplify when they announced their third-quarter results.
Michele Buck, Hershey's president and CEO, said: "The acquisition of Amplify and its product portfolio is an important step in our journey to becoming an innovative snacking powerhouse as together it will enable us to bring scale and category management capabilities to a key sub-segment of the warehouse snack aisle.
"Hershey's snack mix and meat snacks products, combined with Amplify's SkinnyPop, Tyrrells, Oatmega, Paqui and other international brands, will allow us to capture more consumer snacking occasions by creating a broader portfolio of brands."
Tom Ennis, Texas-based Amplify Snack Brands' president and chief executive officer, said: "This transaction is a continuation of our mission as Hershey also believes in bringing to consumers great-tasting snacks made with the best ingredients possible.
"Hershey is a great cultural partner for Amplify and I'm excited for our team who will have access to Hershey's marketing and go-to-market resources to take our brands to the next level."
The transaction is expected to close in the first quarter of 2018.
Hershey has a market capitalisation of $24bn, while Amplify has a market cap of $537m.
In October, Hershey's new CEO Michele Buck reportedly said she is "very open" to the US snacks giant looking for mergers and acquisitions, which she claimed will play a "key role" in its growth.