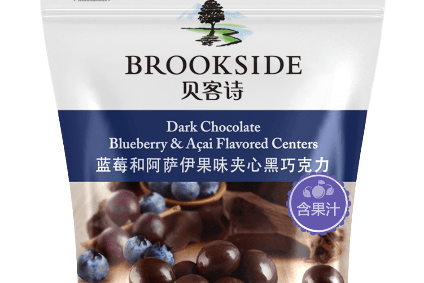 Hershey today (26 April) lowered its forecasts for 2016 underlying net sales and earnings per share, citing a "modest trends" for the business and the wider candy, mint and gum category during the first quarter.
The revised forecasts came as Hershey booked a fall in first-quarter sales and earnings.
The Reese's maker expects its net sales to grow by around 2.5% on a constant-currency basis, including a 0.5 point benefit from acquisitions, which the company said would "primarily" be from the purchase of US firm Ripple Brand Collective, the owner of the BarkThins brand. In January, alongside the publication of Hershey's 2015 results, the company had forecast growth of "around" 3%.
Meanwhile, Hershey has now forecast adjusted earnings per share-diluted would grow 3-4% this year to US$4.24-4.28. In January, the company had estimated adjusted EPS-diluted would increase by "about 6%". The forecast incudes "dilution" from the BarkThins deal of US$0.05-0.06 a share.
"Our updated outlook for the full year reflects the modest non-seasonal CMG category and Hershey trends through the April year-to-date period," Hershey chairman, president and CEO J.P. Bilbrey said. "North America CMG investments, including new products, advertising, and increased levels of merchandising and display, are expected to accelerate in the second quarter and over the remainder of the year. Given the quality and level of these investments, there could be upside to our outlook if non-seasonal CMG marketplace performance is better than the first-quarter trends."
Consolidated net sales fell 5.6% to US$1.83bn in the three months to 3 April. Excluding the effect of foreign exchange, net sales declined 4.4%. Volumes dropped 4.3 percentage points due to a shorter Easter season and lower sales in China.
Operating profit stood at US$339.5m, down from US$384.2m a year earlier. Hershey cut its selling, marketing and administrative costs. However, as well as the lower sales, Hershey also recorded "business realignment charges" linked to its business in China.
Hershey's net income stood at US$229.8m, compared to US$244.7m in the first quarter of 2015.
Hershey's Q1 results by business segment
North America
Net sales down 4.3% at US$1.63bn. Volumes 3.7 points lower.
Segment income dropped 4.5% to $529.4m.
International and other
Net sales tumble 15.4% due to lower sales in China (down over 36% at constant-currency), the decision to stop selling edible oil in India, foreign exchange and sale of macadamia nut growing unit Mauna Loa.
Hershey says combined constant-currency net sales in Mexico and Brazil up nearly 6%.
Segment loss was US$13.2m vs US$21.6m a year earlier. Hershey points to "improved" combined income in Latin America and export markets.?