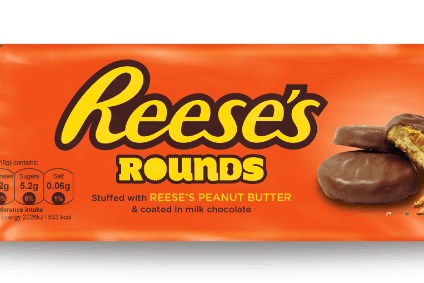 Hershey is entering the UK biscuit market with a Reese's-branded product through a tie-up with UK baker Lightbody Ventures.
The companies are launching Reese's Rounds this month. The peanut butter biscuits are produced by Lightbody Ventures, which manufactures under licence for brands including Annabel Karmel and is a private-label supplier for grocers like Wal-Mart, Tesco and Carrefour.
Hershey already sells a range of confectionery products in the UK. Earlier this year, it also launched a peanut butter spread under the Reese's brand in the country. "The timing of the launch of Reese's Rounds biscuits fits perfectly with our ambitious growth plans," Ernie Savo, director of global licensing at Hershey, said. "It allows our business to replicate the success that it has achieved in other categories."
Lightbody Ventures pointed to two trends in the UK – demand for peanut butter-based foods due to interest in protein and consumers looking for US brands. "The continued growth in popularity of peanut butter shows no sign of slowing down," Lightbody Ventures commercial controller John Steele said. "US brands have gained fantastic presence and popularity in the UK," continues Steele. "The Americana mania trend continues to gain momentum both in and out of home."
Reese's Rounds will be available from the middle of the month. The product is being sold in 145g packs containing eight biscuits for grocery retail with a manufacturer's suggested retail price of GBP1.50 (US$1.84).