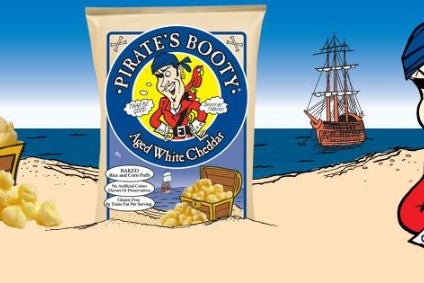 US confectionery giant Hershey is snapping up natural snacking company Pirate Brands from B&G Foods for US$420m.
Pirate Brands, which is also based in the US and owns Pirate's Booty, Smart Puffs and Original Tings, joins Amplify Snack Brands in Hershey's growing snacking portfolio.
The deal amounts to $360m net of tax benefits and is expected to be completed in the fourth quarter subject to regulatory approvals, according to a statement from Hershey late yesterday (12 September). The purchase will be financed with cash and short-term debt .
B&G Foods bought Pirate Brands in 2013. The latter makes natural snacks that are gluten-free and contain no artificial flavours, colours or preservatives. The Pirate's Booty brand is present in what Hershey says is a $2.5bn cheese puffs category.
Mary Beth West, Hershey's chief growth officer, said: "Pirate's Booty is a leading cheese puffs brand loved by moms and kids as a better-for-you treat. We expect the full Pirate Brands portfolio to be a great fit for Hershey's growing Amplify business, which is targeted toward consumers who are looking for great-tasting snacks without compromise."
Amplify, which owns brand such as Skinny Pop, Paqui and Oatmega, was acquired by Hershey in 2017 for $1.6bn. Pirate Brands will operate within Amplify, Hershey's better-for-you snacking hub in Austin, Texas. Following the purchase of Amplify, Hershey decided to sell off the UK-based Tyrrells crisp brand, which was part of that business, in May this year to Germany's Intersnack.
B&G Foods also issued a statement confirming the deal and said it had more than doubled the value of the Pirate Brands business since it was bought five years ago for around $195m.
President and chief executive of B&G Foods Robert Cantwell commented: "Pirate Brands is a terrific business that has performed very well for us and we believe it will continue to thrive under the ownership of The Hershey Company. The transaction we are announcing today is a great example of our ability to create meaningful shareholder value through accretive M&A by acquiring and investing in on-trend food brands."
Cantwell said the funds raised from the sale will be used to reduce its long-term debt and leverage, paving the way for future acquisitions.