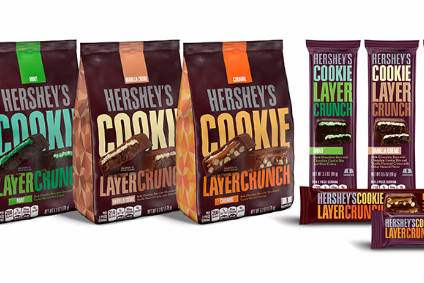 Hershey is targeting demand in the US for different "tastes and textures" in the snacks they eat with a new bar containing cookie bits and "decadent" fillings.
The US candy giant is launching Hershey's Cookie Layer Crunch, which it calls "a new twist" on its flagship bar.
"We recognise eating habits are evolving and that consumers are moving away from traditional meals and into multiple snacking occasions that include various tastes and textures throughout the day," Mary-Ann Somers, general manager and US vice president at Hershey, said. "Hershey wanted to bring consumers an indulgent snack that is a different experience from the classic Hershey's chocolate bar but still just as delicious. We've spent the last 18 months perfecting this innovation to ensure that it not only tastes great but meets the needs and desires of today's modern consumer."
Hershey has developed three flavours for the bars – caramel, vanilla crème and mint. The bars will be available at retail nationally starting in December.
The bars will be offered in different sizes, including a 6.3-ounce bag containing nine pieces of individually wrapped Hershey's Cookie Layer Crunch and a 3.5-ounce "XL Bar" featuring five pieces. A three-piece, 2.1-ounce "King Size Bar" and a two-piece, 1.4-ounce bar are available in the caramel flavour only.