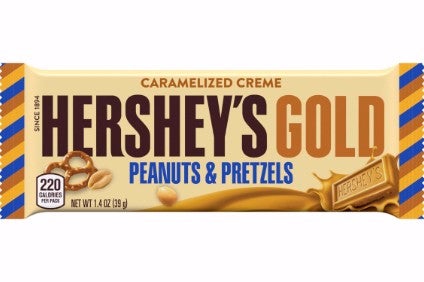 US confectionery major Hershey has defended itself after West African countries Ghana and Côte d'Ivoire cancelled cocoa sustainability schemes run by the company.
The countries have accused the chocolate giant of trying to avoid paying a cocoa premium aimed at combating farmer poverty.
But in a statement sent to just-food, Hershey accused the countries of putting out a "misleading statement".
The row has been bubbling for a number of weeks.
In July, the two countries, which produce the majority of the world's cocoa, introduced a "living income differential" (LID) on all cocoa sales for the 2020/21 season.
Last month the same countries accused some in the chocolate industry of a "ploy to derail" government attempts to improve income for farmers and threatened to suspend schemes used by some cocoa and chocolate companies to assure consumers the beans they use in their products are ethically sourced.
Now they have made good on that threat. In a letter addressed to Hershey, the Ivorian and Ghanaian cocoa regulators accused the company of sourcing unusually large volumes of physical cocoa on the ICE futures exchange in order to avoid the LID premium.
They said they are barring third-party companies from running sustainability schemes in their countries on behalf of Hershey.
In response, Hershey said: "It is unfortunate that Cote d'Ivoire and Ghana have elected to distribute a misleading statement….and jeopardise such critical programmes that directly benefit cocoa farmers. As we have consistently stated, here at Hershey we understand and share the same goals – to improve cocoa farmer livelihoods and ensure a long-term sustainable cocoa supply."
Batting away criticism that Hershey is seeking to avoid paying the LID premium, the confectioner said: "We are fully participating in the LID for cocoa purchases already made from the 2020/2021 crop as we buy a substantial supply sourced from West Africa. And we will continue to participate in the LID to support cocoa farmer livelihoods going forward."
It added: "We have long bought cocoa from other origins around the world as part of our particular bean blend to achieve our unique Hershey's chocolate flavour profile. And we will continue to do so.
"This long-time practice of sourcing cocoa from around the world should not be conflated with avoiding paying the LID."
It said that "based on our current trends," its expectation is that cocoa purchased from West Africa in 2021 will be in line with 2020 purchases.
"The letter that the Ivorian CCC and the Ghanaian Cocobod issued said we are 'intent to avoid paying the LID'. That is simply not true," Hershey said.
With regard to its sustainability programmes being barred in the countries, Hershey added: "Industry sustainability programmes, such as ours, are needed to positively impact cocoa-growing communities and we remain ready, willing and able to continue these important programmes such as child labour monitoring and remediation, farmer training, environmental protection, and childhood nutritional supplements.
"Our concern is that by cutting off industry sustainability programmes, cocoa farmers will be negatively impacted as they will no longer receive the benefits provided by our on-the-ground programmes, as well as the price premium for certified cocoa."