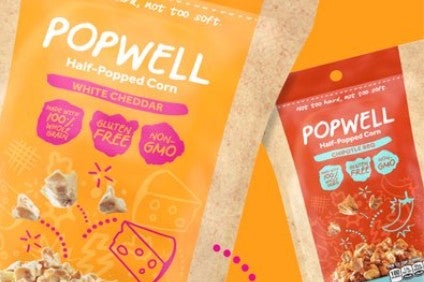 Hershey is targeting the healthy-eating US consumer with its new Popwell popcorn brand.
Popwell, a popcorn with less than 200 calories per serving, has been launched in select US outlets.
The US-based confectionery and snacks maker said brought the "half-popped corn" to market in ten months, a fraction of the usual two-year development process. It is trying to seize on the opportunity to compete in the "better-for-you" category with a whole grain snack that is non-genetically-modified and gluten-free.
"Exploring a new category with Hershey requires looking at things from a different avenue", Zack Decker, Hershey's global innovation brand manager, said in a statement posted on its website. "We knew that if we wanted to truly be a snacking company, we also had to live entrepreneurially – which means not only looking at things through a different lens, but also doing things differently."
Hershey accelerated the development process by using the same team from the conception stage to the final product and by partnering with an unnamed co-manufacturer, which will also serve as an ingredient supplier and packager. After conducting market research and taste tests, Popwell corn will come in familiar seasonings such as sea salt, white cheddar and chipotle BBQ.