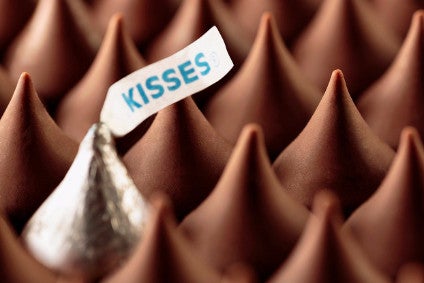 US-based confectionery maker Hershey has partnered with delivery app firms Swiggy and Dunzo in India to launch an online store.
Consumers will be able to shop on The Hershey Happiness Store platform for a select range of its snack bars, chocolate, spreads, soy and almond milk, protein cookies, milkshakes, syrups, cocoa powder and tomato puree.
Hershey said the partnership with Swiggy will see its products delivered to people's homes in the cities of New Delhi NCR, Bengaluru, Mumbai and Hyderabad, while Dunzo will serve Bangalore and Hyderabad. More locations will be added "over the next few months".
The Hershey Kisses maker, a product that will feature on the platform, said the initiative is designed to help consumers navigate the Covid-19 lockdown.
Herjit Bhalla, the managing director for Hershey India, said: "We are in unprecedented times and it is imperative that we find innovative ways to bring our loved brands to our consumers. We are happy to have partnered with both Swiggy and Dunzo to bring the goodness of the Hershey range of products to our consumer's doorstep, in a safe and convenient way."
A statement from Hershey added: "Families are increasingly cooking delightful snacks at home with Hershey's products and the online store is an additional avenue for consumers to access Hershey's loved products, in addition to existing retail stores and e-commerce platforms."