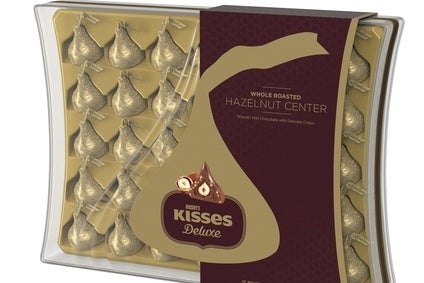 Hershey is launching the "premium" Kisses Deluxe chocolates in the US, looking to target consumers wanting to buy "premium" chocolates as a gift.
The chocolates – twice the size of the standard Kisses chocolate – were first launched in China in 2013. Hershey said it had "spent over four years crafting and testing" the products before introducing them to its domestic market.
"We reimagined Hershey's Kisses to meet consumer demand for a more thoughtful gifting chocolate from our iconic brand. Kisses chocolates are already a holiday tradition for millions of American families," Melinda Lewis, senior direction at Hershey, said.
The company, which described the launch as "the largest innovation in 25 years" for the Kisses brand, said the Deluxe line will be available at retailers including Walmart, Kroger, Walgreens and CVS. A 75-piece version is also available online through Amazon. Suggested pricing varies by size ranging from $1.00 for a three-piece to $10.99 for a 35-piece.