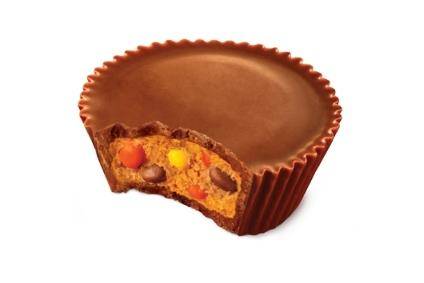 Hershey is combining two of its iconic Reese's products with the launch of Reese's Pieces Peanut Butter Cups.
The new SKU consists of Reese's Pieces candy inside a Reese's Peanut Butter Cup.
"Awesome meets awesome," said Ryan Riess, senior brand manager of the Reese's brand. "Our fans are going crazy about Reese's Pieces Peanut Butter Cup. It's a cupfusion of deliciousness. What more could you ask for?"
The new product will be available throughout the US in mid-July. It will be available in a standard two-cup size with a suggested retail price of US$1.29 as well as a larger "big cup" size with a recommended retail price of $1.99.
Hershey has been working to revitalise its well-known US brands through innovation in order to revise downward pressure on sales. Net sales in the US were down 4.3% in the first quarter. In January, the company said it wants sales to grow by "around 3%" on a constant-currency basis as it put an NPD push at the centre of its plans to improve revenues. However, in its latest trading update last month the company said it now expects sales excluding currency translation to rise by "around 2.5%".