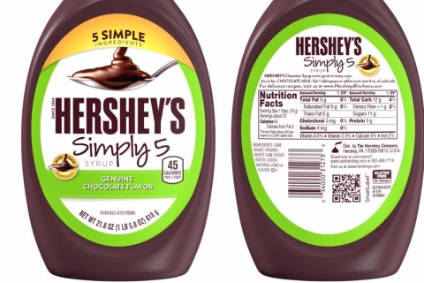 Hershey is introducing a new syrup in the US that contains "five simple ingredients".
The Hershey's Simply 5 Syrup contains no high-fructose corn syrup, artificial preservatives and flavours or GMOs. It has been launched in response to growing demand for foods made with "simple" ingredients and contains cocoa, water, natural flavour from vanilla beans, cane sugar and cane syrup.
"People are looking for products that taste great and have ingredients that they recognise, know and trust," said Kriston Ohm, senior brand manager for Hershey's syrups and toppings. "Hershey's Simply 5 Syrup is another way to share the sweetness and the memories that our iconic syrup evokes, with five simple ingredients and nothing else."
Since announcing plans to simplify the ingredients that go into its products in 2015, Hershey said it had made changes to more than 500 product SKUs including the iconic Hershey's Kisses Milk Chocolates and Hershey's Milk Chocolate Bars.
Hershey's Simply 5 Syrup is available now at retailers nationwide for a suggested retail price of US$3.29.
A spokesperson for the company told just-food that the product would be launched in addition to its classic syrup. "Our goal is to offer consumers options. For those who love our classic syrup, we will continue to offer this popular product. For consumers looking for a simple, non-GMO option, Simply 5 gives them a choice," the spokesperson explained.