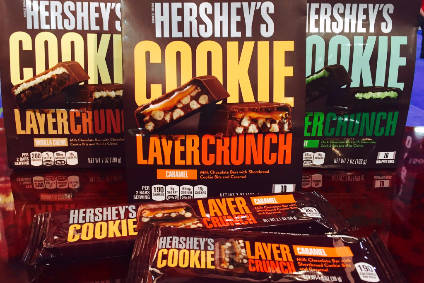 US chocolate group Hershey has raised its forecast for full-year earnings after booking an increase in third-quarter sales and profits.
Hershey lifted its earnings per share guidance range to between US$4.28 and $4.32, compared to a forecast set in April for the company's earnings per share to hit $4.24-$4.28.
However, the April forecast for earnings per share was a downgrade on what Hershey had set out in January.
Announcing its third-quarter results on Friday (28 October), Hershey continued to predict its annual sales would grow by "about 1%", including a 0.5 percentage point benefit from acquisitions.
Net sales in the three months to 3 October totalled US$2bn, an increase of 2.2% versus the third quarter of 2015. Volume growth contributed one percentage point to the gains while pricing and acquisitions each added 0.7 points to the top line. Exchange rates trimmed 0.2 percentage points off Hershey's sales growth.
US sales were up 1.8% while Hershey's international business grew revenue by 5.3% year-on-year.
Operating profit increased to $374m, versus $303m in the prior year, while net profit rose to $227.4m compared to $154.8m in the comparable quarter of 2015.
Profit growth was supported by lower advertising spending as well as a 2% reduction in selling, marketing and administrative costs.
Hershey president, chairman and CEO John Bilbrey said the company will be investing in product launches during the fourth quarter. "We're making the necessary investments we believe will strengthen Hershey's leadership position and build upon our latest marketplace results. Our seasonal business and programs are on track and the launch of Hershey's Cookie Layer Crunch bar should enable us to end the year with momentum."
Earlier this month, Hershey announced Bilbrey would retire from the business next year. Bilbrey, who has worked for Hershey for 13 years and, by the time he retires, six as CEO, said he wanted to spend more time with his family.