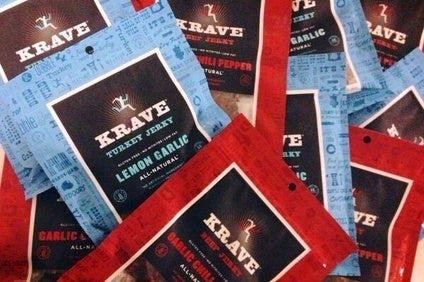 US confectioner Hershey has been linked to a possible takeover of protein snack group Krave.
According to Reuters, the Kisses maker is in late-stage negotiations to buy the jerky manufacturer. A spokesperson for Hershey declined to be drawn on the rumours while Krave did not respond to requests for comment.
Krave manufactures beef, turkey and pork jerky. Meat snacks are witnessing growth in the US as a consequence of rising consumer demand for protein. Krave claims to take a "culinary approach" to a traditionally "low-brow" snack. Estimates value the firm in the US$200-300m range.
Hershey has previously stated M&A will contribute to its growth strategy. In December, Hershey entered into an agreement to acquire Canada's Allan Candy. In September, the company finalised a deal announced in December 2013 to buy 80% of Chinese confectioner Shanghai Golden Monkey.
A spokesperson for Hershey said: "We have stated that M&A would be part of our growth path over the next few years. And our company key strategies for the past few years include growing beyond confection into the broader spectrum of snacking and adjacencies."
For more on Krave, check out our top picks from the recent Natural Products Expo East where we flagged the meat snack maker as one to watch.