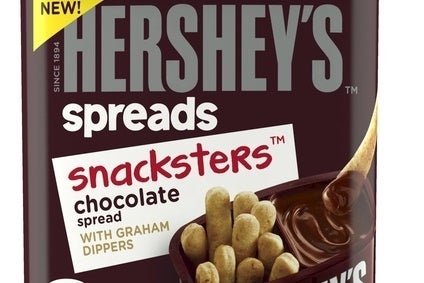 Hershey today (29 October) cut its forecasts for annual net sales and earnings per share on the back of "mixed" international sales and pressure on commodity costs.
Alongside the publication of its third-quarter results, the Reese's maker said "macroeconomic challenges" had put pressure on its sales growth in markets outside the US.
It estimates 2014 net sales will increase "around 4.75%, including the impact of foreign currency exchange rates and a contribution from acquisitions of about 0.75 points. In July, when Hershey announced its second-quarter results, the company forecast net sales would rise "around the low end" of its long-term target of 5-7%.
The reduction in Hershey's earnings per share forecast for 2014 came on the back of an "unfavorable product mix and volatility in the commodity markets, primarily dairy".
Hershey expects adjusted gross margin to decline about 75 basis points versus 2013. As a result, the company anticipates adjusted diluted earnings per share to increase by "around 8%" in 2014, down from its July forecast of "around the low end" of its long-term target of growth of 9-11%.
In the third quarter to 28 September, Hershey saw a drop in operating profit despite higher sales, on the back of higher cost of goods sold and one-off charges.
EBIT fell to US$366.1m, down from $370.6m in the year ago period. Net income dipped to $223.7m, from $233m in the prior year. Profits were dented by an increase in input costs and a jump in business realignment charges in the period.
Sales were up, however, rising to $1.96bn in the quarter from $1.85bn. John Bilbrey, president and CEO, said the company benefited from strong seasonal orders but conceded the consumer environment in the US meant non-seasonal candy sales were somewhat depressed.
Hershey shares were down 2.97% at 10.21 ET, falling to $92.69.
Despite lower third-quarter profits, for the year-to-date Hershey's earnings are nevertheless up. In the nine months, EBIT has risen from $1.03bn to $1.04bn and net profit has increased from $634.4m to $644.4m.