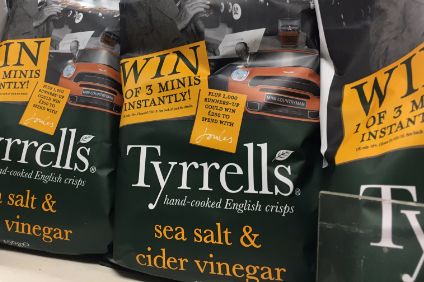 Hershey is weighing up the future of the non-US operations of its recently-acquired US snacks business Amplify Snack Brands.
Last month, UK broadcaster Sky News reported Hershey was mulling its options for local snacks maker Tyrrells, which the US confectionery giant bought as part of its purchase of Amplify, a deal announced in December and closed during the first quarter of 2018. At the time, Hershey declined to comment on the report.
Speaking to analysts yesterday after Hershey published its first-quarter financial results, Patricia Little, the Kisses maker's CFO, admitted it was "likely" the company would offload Amplify's business outside the US.
"We are making progress on our strategic review of the Amplify international business. We have now reached a point where we believe it is likely that we will sell the business in the next 12 months," Little told analysts on a conference call. "Therefore, you will now see this reported as an asset held for sale in the 10-Q we're filing this quarter. The business is still included in our guidance as we're not certain if and when a sale will occur. To assist with your modelling, 12-month sales are approximately US$125m and operating income is immaterial."
The overall Amplify business boosted Hershey's first-quarter sales by 3.4 percentage points. Hershey CEO Michele Buck said the acquisition was "on track" and "delivering Q1 as planned".