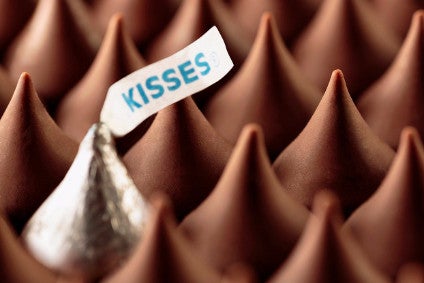 Hershey has booked a drop in first-quarter profits due to higher asset impairment charges and "business realignment" costs.
However, the US-based confectionery and snacks group said its underlying profits rose year-on-year.
The company said operating profit declined to US$191.9m in the three months to 2 April, compared to $339.5m in the comparable period of last year.
During the period, Hershey registered "long-lived asset impairment charges" of $208m and integration costs of $44m compared to $6m last year. In total for the quarter, items impacting comparability totalled $216.6m.
Net income attributable to Hershey shareholders totalled $98.2m versus $229.8m in the first quarter of 2016.
On an adjusted basis, excluding the charges, Hershey's first-quarter consolidated operating profit was up 10.5% at $435.2m.
Adjusted net income, was $282.1m, or $1.31 per share-diluted, for the first quarter of 2017, compared with $238.9m, or $1.10 per share-diluted, for the same period of 2016.
Hershey stressed its first-quarter sales increased 2.8% to $1.88bn. Organic growth stood at 1.8%, with acquisitions and currency exchange also lifting the top line.
"I'm pleased with our first-quarter results, which were driven by seasonal sales growth, the roll-out of Hershey's Cookie Layer Crunch bars and our continued focus on cost control," Michele Buck, Hershey's president and CEO, said.
Hershey tweaked its forecast for annual net sales, keeping the target at growth of 2-3% but saying it now expected its top line to reach "around the low end" of the range.
However, the Reese's maker expects its adjusted earnings per share-diluted "to be around the high end" of its previous forecast of $4.72 to $4.81, which would equate to a 7% to 9% increase versus 2016.