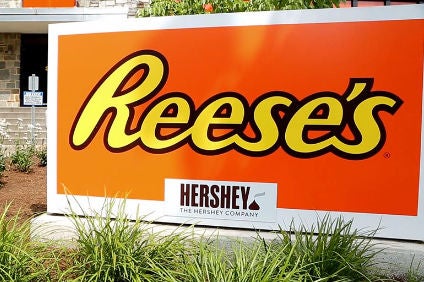 Hershey today (3 February) reported underlying fourth-quarter earnings – and issued a forecast for its 2017 adjusted EPS – above Wall Street estimates.
The US-based confectionery and snacks maker posted non-GAAP diluted earnings per share of US$1.17 for the three months to 31 December, up from $1.08 a year earlier and above the $1.08 analysts believe the company would again book.
Hershey's forecast for its 2017 non-GAAP diluted earnings per share was a range of $4.72 to $4.81, above the $4.64 consensus analyst forecast and which would equate to a 7-9% rise in 2016.
The Kisses maker's net sales growth accelerated in the fourth quarter, growing 3.2% to $1.97bn. Exchange rates trimmed 0.5 percentage points off the result, although Hershey's top line received a 0.9 point boost from acquisitions.
The fourth-quarter net sales contributed to a year in which Hershey's net sales inched up 0.7% to $7.44bn. Hershey forecast its net sales would rise 2-3% in 2017.
Fourth-quarter reported operating profit stood at $229.5m, versus $366.4m in the fourth quarter of 2016. Adjusted operating profit, which excluded factors like mark-to-market derivatives, charges from "business realignment activities" and the cost of integrating acquisitions, reached $378.4m, down from $380.4m in the fourth quarter of 2015.
In 2016, Hershey's business-realignment programme included moves to "optimise" its production and supply chain, which will lead to factory "consolidations", as well as a decision to merge its operations in China into one unit.
Hershey's annual reported operating profit increased 16.2% to $1.21bn. On adjusted basis, it was up 2.4% at $1.51bn.
The Reese's owner booked fourth-quarter reported net income of $116.9m, against $227.9m a year earlier. Adjusted net income rose year-on-year from $237m in the fourth quarter of 2015 to $249.7m.
Full-year reported net income was $720m, compared to $513m in 2015.