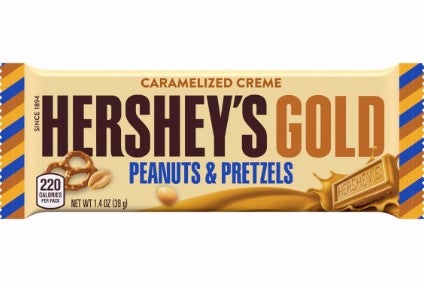 US confectionery giant Hershey is planning to add another chocolate product, Gold, to its namesake range.
It describes Gold as its "fourth flavour", as it is only fourth time in the company's history that it is introducing a brand-new flavour.
In a call with analysts after reporting its third-quarter and nine-month results yesterday (26 October), the Pennsylvania-based company's president and CEO, Michele Buck, said: "I'm … excited with the introduction of Hershey's Gold, Hershey's fourth flavour.
"Hershey's Gold features a rich cream that delivers a buttery sweet flavour and a distinctively new Hershey's experience. Its caramelised cream also includes a combination of salty crunchy bits of peanuts and pretzels that deliver a creamy, crunchy satisfaction."
Buck said the product will start to be shipped to a few select customers in the last quarter of 2017, but will be available in stores more broadly in January, as merchandising will be tied in with the Winter Olympics, which begin on 9 February.
Hershey – which also owns brands including Reese's and York – also revealed in the call it is to expand its Cookie Layer Crunch range with the addition of Cookie Layer Crunch Triple Chocolate.
Shipments to "select customers" will begin at the end of this year.
"Importantly, the Cookie Layer Crunch platform is Hershey's largest launch in recent history and will receive equal support in year two as it did in year one," Buck told analysts.
Hershey saw an increase in sales and earnings for its third quarter. Over the first nine months of Hershey's financial year, its sales increased but its profits dipped.