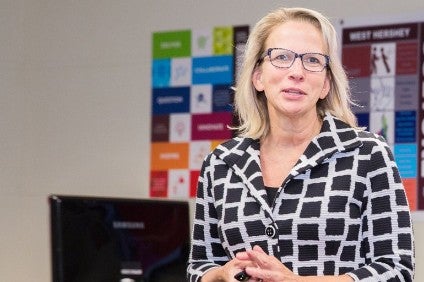 Hershey today (29 April) upped its forecasts for annual sales and earnings per share, pointing to the prospect of increased mobility in society and improved distribution in North America.
The US-based snacks giant now expects its net sales to grow 4-6% in 2021, up from its previous forecast of an increase of 2-4%.
Hershey, home to brands including Reese's chocolate and Fulfil snack bars, is also predicting annual earnings per share of US$6.64 to $6.86, a rise of 9-12% on its earlier forecast.
"We are off to an outstanding start in 2021, with broad-based growth across the portfolio leading to double-digit sales and earnings growth in the first quarter and an increased outlook for the full year," Hershey president and CEO Michele Buck said. "As Covid-19 vaccines roll out across the globe, consumers are optimistic about the future and looking forward to spending more time with their family, friends and community.
"As we have seen over our 127-year history, our portfolio of beloved brands plays an important role in these special moments of connection, comfort and happiness. We expect continued investments in our brands, capabilities and people along with our agility to respond to and capitalize on marketplace opportunities, to drive sustainable, advantaged performance not only in 2021, but in years to come as well."
In Hershey's first quarter, which ran to 4 April, net sales rose 12.7% to $2.3bn. Volumes increased by 11 percentage points, Hershey said, helped by "continued momentum" in North America an "accelerated recovery" from the group's International and Other division.
Sales from Hershey's four key markets outside the US and Canada have come under pressure in recent months, hit by lower sales from its owned retail outlets. During the fourth quarter of last year, Hershey began moves to "streamline resources and investments" in selected international markets, including changes to the way it does business in China.
Organic, constant-currency net sales were up 12.9%.
The company's reported net income jumped 47.3% to $395.8m, or $1.90 per share-diluted. Stripping out items including derivative mark-to-market losses and asset impairment charges, Hershey's non-GAAP net income rose 16.9% to $400.6m.