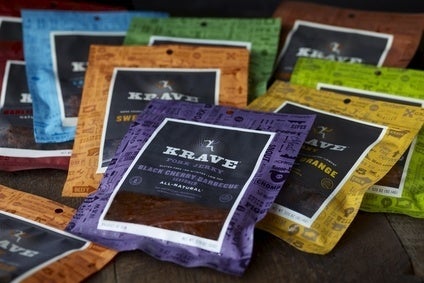 US confectioner Hershey has confirmed it is to acquire premium jerky firm Krave Pure Foods.
The Reese's owner said the transaction will allow it to tap into the "rapidly growing meat snacks category and further expand into the broader snacks space". Reports of the acquisition being in its final stages emerged earlier this month.
"Krave jerky is a great fit to our portfolio and overall snacks and adjacency's strategy," said Michele Buck, president of Hershey's North American operations. "The Krave brand delivers on portable and protein nutrition while also understanding consumers' food preferences, including the desire for simple ingredients and transparency, something that is also a part of Hershey's strategic vision."
In an investor conference call discussing Hershey's annual results, which were also announced today (29 January), Buck said: "We're seeing the consumer turn to grazing… trends are evolving… we as a company are looking to adapt to that."
She added Krave is present in the 'better for you' and premium segments – the fastest growth areas within the category.
Krave was set up in 2009 by Jon Sebastiani. Three years later, US private-equity firm Alliance Consumer Growth bought a minority stake in the business.
Julian Steinberg, managing partner at Alliance Consumer Growth, said, "Jon Sebastiani and the Krave team have done an extraordinary job building the company. We are thrilled with the rapid growth and development of the brand over the last two years. Krave has revolutionised jerky by driving new consumers into the category and redefining jerky as a better-for-you, high-protein snack. This transaction represents a terrific outcome for all involved, and we are confident that Krave will continue to thrive for years to come under Hershey's ownership."
Hershey's full-year results included a set of fourth-quarter sales that missed analyst expectations.
Shares in the company were down 7.62% at US$99.47 12:28 ET today.