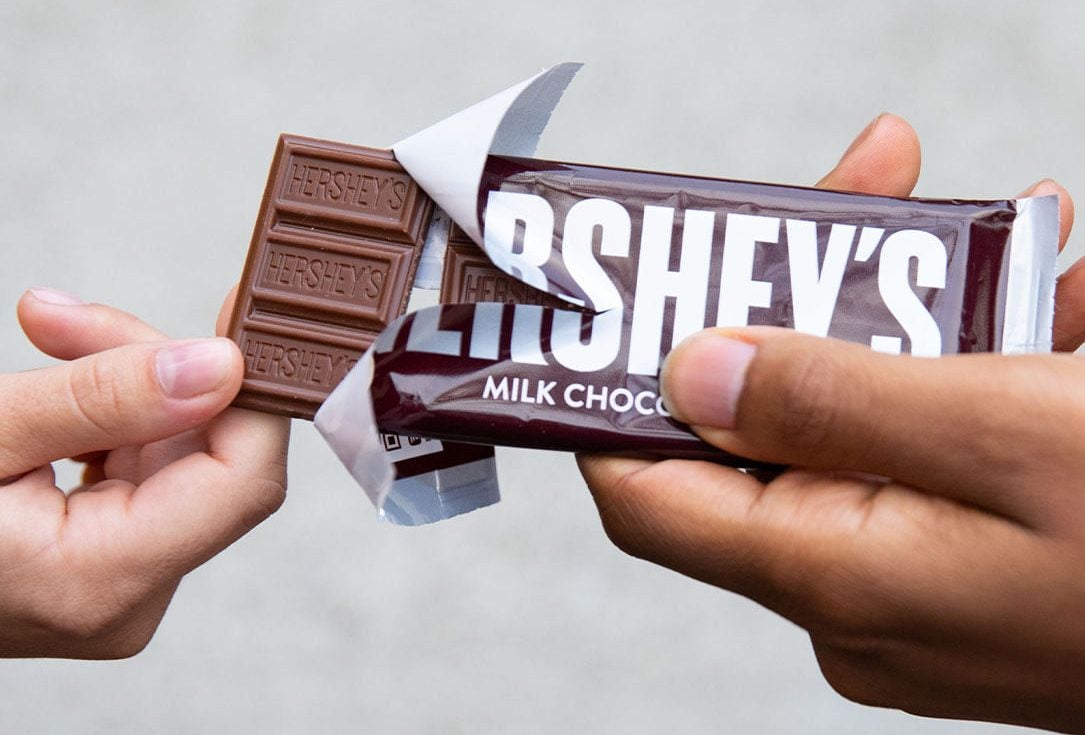 As Hershey surpassed the US$10bn annual sales milestone helped by pricing to counter "record" cost inflation, the confectionery business plans to step up spending on capacity and advertising.
Hershey's volumes rose 4% in the year to 31 December despite pricing of 8%, with the consumer in its categories proving resilient once again amid an urge for confectionery and salty snacks treats, the US-based company noted in its annual results yesterday (2 February).
Further "price realisation" is expected through the first three quarters of the new year to offset high-single-digit commodity costs and mid-single digits from labour, logistics and supply chain pressures, Hershey CFO Steve Voskuil said in his prepared remarks.
However, president and CEO Michele Buck suggested consumers will have to get accustomed to the prospect of paying more for snacking on treats even when inflation rates start to abate.
"Historically, there hasn't really been a move in the category to execute price declines or price rollbacks," Buck explained during yesterday's Q&A session. "As prices have gone up, they have tended to stick in the marketplace, as a matter of principle of how that category dynamics have worked."
To support continued growth after notching up a 16.1% net sales increase last year to $10.4bn and 12% in organic terms, Hershey plans to make "meaningful but disciplined investments in our supply chain network", Buck said.
She elaborated in her prepared comments: "In 2023, we will add capacity for our largest and fastest-growing brands. This will enable us to increase overall production capacity, improve service levels and insource production to help improve profitability."
Capacity expansion
Voskui outlined 60% of the anticipated $800m to $900m in planned capital investment in the new year will be "focused on core capacity expansion", with the remainder allocated to "digital infrastructure and capabilities" and productivity improvements.
Buck explained in the Q&A: "It's going to be coming online throughout the year. If you look at the 2020-to-2024 period, we were looking for a 15%-ish increase in capacity across the network. What we're going to see in 2023 is going to be a low-single-digit contribution towards that goal."
Advertising investment will also increase to keep consumers engaged in Hershey's categories, particularly with prices continuing to rise. Spending will climb in the double-digit area, especially in the company's namesake brands, Reese's and Seasons, Buck said.
"Salty snacks will see a meaningful increase in investment this year as we look to deepen consumer engagement and build brand equity for these fast-growing brands," she added.
Buck expanded her remarks in the Q&A: "We've seen the impact and the returns that we get on advertising in terms of having very strong ROI. Over time, we do know that advertising builds consumer connectivity. And we know that consumer connectivity is what helps us to have the elasticities that we do."
When Hershey talks of price resistance it is primarily centred on North America, a region that accounted for more than $9bn in sales last year across confectionery and salty snacks.
"While more than half of US consumers indicate inflation is having a major impact on their grocery shopping, many are spending more as they cut back on dining out," Buck said. "In addition, our largest categories – chocolate and salty snacks – rank as two of the top three resilient treats that consumers are not willing to forgo.
"As a result, we believe snacks and confection trends will continue to pace ahead of other food categories, and our planned increases in advertising levels, supported by higher production capacity, are expected to further bolster Hershey's growth and help offset price elasticity."
Hershey estimates net sales will grow 6-8% in the new year. "Price is expected to be the largest contributor to growth, with volumes projected to be flat to slightly down for the year," CFO Voskuil said.
Buck added: "As we look at price elasticities, we are assuming that they will be closer to last year than they were to historic, but not quite as good as last year. And as we look at our capacity, we will have low single-digit increases in capacity which do give us some ability to flex with demand as we see it."
Third-quarter results commentary: Hershey to test treats resilience with further price increases
Just Food's analysis: A chill, not a freeze: the impact of inflation on indulgent snacks