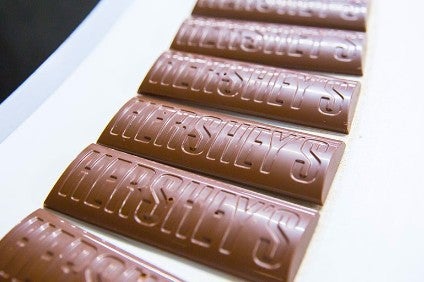 Confectionery giant Hershey has moved to increase the prices for its products in the US, with the Reese's and SkinnyPop maker insisting it needed to offset rising costs and maintain the "strong investment" in its business.
Hershey has announced a hike that amounts to a "weighted average" of 2.5%, president and CEO Michele Buck said as she announced the US-based manufacturer's second-quarter and half-year results.
"This was a targeted approach and it included a combination of list price increases, price-pack optimisation and changes to customer terms. As part of this communication, we also shared packaging enhancements that improved the consumer shopping experience to drive growth while delivering net price realisation," Buck told analysts on a conference call to discuss the results.
"We've utilised a couple different pricing levers and so, the entire portfolio is impacted by terms. There are select pieces of the portfolio impacted by price-pack optimisation and then about a third of the portfolio experienced just a straight price increase."
In the second quarter, Hershey's net sales in North America rose 5.6% to US$1.56bn, contributing to a 5.3% rise in group-wide net sales to $1.76bn.
Hershey said its "total Hershey US retail takeaway" sales – which are sales made in what IRI dubs multi-outlet retailers and in convenience stores was "in line with the prior year". That metric covers the company's candy, mint, gum, salty snacks, snack bars, meat snacks and grocery items.
The specific retail takeaway for its candy, mint and gum business in US multi-outlet retailers and convenience stores dipped 0.4%, leading to a fall in share of 30 basis points.
Buck did point to "strength above what we anticipated" in non-measured sales channels.
Hershey's reported gross margin was 45.3%, down 80 basis points versus the second quarter of 2017. The company pointed to higher freight and logistics costs, investment in trade and packaging, "unfavourable mix" and costs related to new production lines.
Buck said Hershey's moves to invest in areas such as expanding capacity, more its supply chain "flexibility" and in ERP technology would, when combined with the price increase, would be "important levers to address our recent gross margin headwinds".
Alongside the publication of the results, Hershey announced the disposal of Chinese unit Shanghai Golden Monkey, a deal that followed the sale in May of Tyrrells, the UK-based snacks business the company acquired when it bought US peer Amplify Snacks Brands last year.
Hershey's international division is comprised of its businesses in markets including Brazil, India, Mexico and China. In the second quarter, the net sales from Hershey's "international and other" unit rose 3.1%, amid "solid sales growth" in Brazil, India and Mexico, where sales rose by a combined 15%.
On China, CFO Patricia Little said: "Our China team is delivering ahead of expectations on both the top and bottom line."
The sale of Shanghai Golden Monkey came four years after Hershey acquired the business and during a period in which the company, after having struggled in China in the 1990s, was stepping up its investment in the market. At the time, Hershey was holding up China as its "primary international market".
However, Hershey has found the going challenging in China. Within 18 months, Hershey was moderating its expectations for the performance of its new Chinese asset. In August 2015, Hershey booked an impairment charge of US$100m on the business amid "disappointing" results.
In February 2016, Hershey acquired Shanghai Golden Monkey outright. However, Hershey made four downgrades to its sales forecasts throughout 2016 and China was a central factor for both internal reasons and challenges in the wider market.
Buck told analysts on Thursday the sale of Shanghai Golden Monkey would help its business "focus on our strengths for future growth" and said the group was making moves to improve the performane of its operations in China.
Buck added: "In China, our transformation is ahead of expectations. We remain committed to this important market and are optimising our footprint to focus on core SKUs, provinces and channels. Sales are stabilising. Our core Hershey's SKUs in targeted channels are growing share and our bottom line is improving meaningfully.
"We have reset our international business model by divesting non-productive assets, right-sizing investments and focusing our efforts on key brands, key markets and key channels to drive profitable growth."
Buck was asked by an analyst about Hershey's appetite for more M&A or ventures in emerging markets. The Hershey chief indicated the company was looking closer to home.
"I'd say right now that is not our focus for M&A activity. Our focus is on the US market," she said. "We have enough scale in Canada and Mexico – and I think that we're making really good progress on our own in China and India, not ruling out any potential strategic partnership going forward, but feeling good about our focus on the Hershey brand, on a higher margin portfolio and local talent, doing all the right things to accelerate our business."