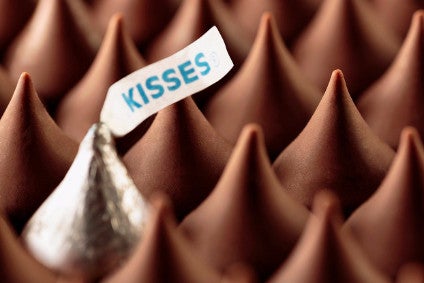 US chocolate giant Hershey is aiming to get ahead of the transparency curve through an update of the Nutrition Facts panels on its products.
It is making the move even though the country's Food and Drug Administration (FDA) has delayed the original July 2018 deadline to implement the new labelling system first mooted in May 2016. Hershey will be among a number of food companies to bring in the new-look labels despite the delay.
Hershey will be moving ahead with rolling it out on its products during the rest of this year and in 2018.
The most significant changes include more prominent calorie and serving size information, updated daily values and serving sizes and new information about added sugars.
Hershey is also creating SmartLabel landing pages linked to detailed product and ingredient information for all products in its US products this year, with QR codes to follow by the end of next year.
It is also adding Facts Up Front calorie labelling to all of its standard- and king-size confectionery products, which will be completed by the end of next year.
The company plans to start the process in the autumn with products such as Hershey's Kisses milk chocolates among the first to hit the shelves with the new packaging.
All new products will also launch with the new labelling.
In June, it was announced the US government has pushed back the planned introduction of changes to the Nutrition Facts labels used on food sold in the country. The FDA said it would give manufacturers more time to comply with the changes.