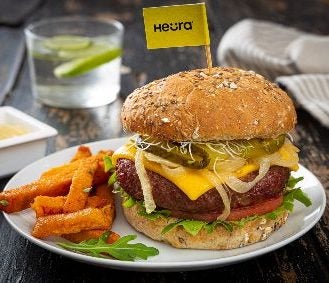 Heura Foods, a manufacturer of plant-based meats in Spain, has secured Series A financing following a crowdfunding round that attracted international footballers Chris Smalling, Sergi Roberto and Cesc Fábregas.
Barcelona-based Heura, a start-up founded in 2017 by Marc Coloma and Bernat Añaños, has received EUR16m (US$19.1m), funds the business will use to expand its R&D team and grow internationally, it said in a statement today (23 June).
The company has a European presence in markets including Spain, Portugal, France, the Netherlands and the UK. Further afield, its products are available in Singapore, Hong Kong, Vietnam, Malaysia, Egypt, Canada and Chile.
Impact Fooding, which describes itself as a food-tech impact fund, led the Series A round. Contributions also included Amsterdam-headquartered plant-based investor Unovis Asset Management, Lever VC in New York, European vegan investor Capital V and Green Monday, the Hong Kong-based meat-free business.
CEO Coloma said: "Having such a mission-driven profile of investors who trust and believe in our purpose means we'll be able to boost the protein transition and accelerate the change we want to see in the world. Our mission is clear, and now we have gas to get there faster."
Earlier in June, Heura said it closed a crowdfunding round offering equity ownership in the company for EUR20 a share.
The business posted a turnover last year of EUR8m, triple the EUR2.5m print in the previous 12 months. Its portfolio includes plant-based chicken and beef made with soy sourced in Europe, olive oil, salt and spices. Its meat-free chicken range features spiced chunks, strips and tacos, while in the beef segment it offers 'meatballs' and burgers.
The company will use the Series A funds for R&D to develop new products and further its international expansion.
Just Food has approached Heura for more details on the plans and to establish the investment criteria to date but had not received a reply at the time of writing.