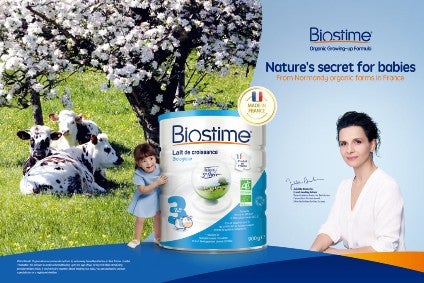 Hong Kong-based H&H Group is entering a EUR60m (US$74.3m) infant formula investment with co-packer Isigny Sainte Mère to take advantage of growing demand in China.
The project entails a new drying tower for baby milk powder at French dairy co-operative Isigny Sainte Mère's (ISM) headquarters in Normandy, with the investment expected to create 120 jobs.
Listed in Hong Kong as H&H Group, baby nutrition product manufacturer Health & Happiness International Holdings owns the Biostime infant-formula brand and holds a 20% stake in ISM.
H&H will be the target customer for the baby formula powder produced at the new facility.
"Following the introduction of the 'second child' policy in China, two million more babies were born in China last year which brought the total number of births to 17.5 million," H&H CEO Luo Fei told Les Echos. "It's an exceptional source of growth, with [infant formula] products moving upmarket."
Fei's comments were confirmed to just-food by an ISM spokesperson.
The new drying tower, earmarked to enter service in 2020, will have an annual capacity of 25,000 tonnes.
In addition to China, ISM is looking to supply markets for infant formula in Africa, the Middle East, South America and Indonesia. The investment in the new plant in the town of Isigny follows two similar projects by the companies in 2013.