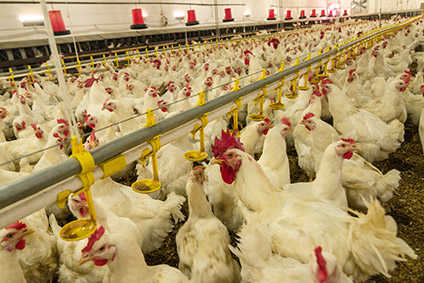 The UK's Foods Standards Agency (FSA ) has found levels of so-called superbugs in chickens for sale in British supermarkets have increased.
Such AMR [anti-microbial resistant] bugs are immune to some of the strongest antibiotics and the FSA fears resistance to antibiotics among livestock could affect resistance in humans further and potentially make human medicine ineffective against serious diseases.
The FSA tested a large sample of fresh whole chickens from retailers and reported "significantly higher proportions" in recent years in instances of campylobacter, a harmful pathogen, that were found to be resistant to the antibiotics commonly used to treat it.
Its data demonstrated significantly higher proportions of resistance to ciprofloxacin, compared to older data from the 2007/2008 FSA survey and in the CLASSP survey (2010).
The FSA warned: "This survey provides evidence that AMR [anti-microbial resistant] campylobacter are to be found on whole fresh chickens sold at retail in the UK. It is therefore important to handle chicken hygienically and cook thoroughly to reduce the risk to public health."
However, a body representing the British poultry industry suggests the conclusions drawn from the study show a "lack of knowledge" of the sector.
The FSA's study looked at the proportion of campylobacter jejuni and C. coli strains in retail chicken from July 2015 to July 2018.
"The development and spread of antimicrobial resistance is a public health concern worldwide," it said. "It is a complex issue driven by a variety of interconnected factors enabling microorganisms to withstand antimicrobial treatments to which they were once susceptible.
"The use of antibiotics is important in treating infections and preventing disease from arising in both animals and humans. However, the overuse and/or misuse of antibiotics in both animal husbandry and healthcare settings has been linked to the emergence and spread of microorganisms which are resistant to them, rendering treatment ineffective and posing a risk to public health."
The UK government set targets for the use of antibiotics in meat and fish production back in 2016.
The FSA, a UK government body responsible for food safety, is assessing whether agricultural practices may be having an effect on public health, via the food chain.
The transmission of AMR microorganisms through the food chain is thought to be one of the routes by which people are exposed to AMR bacteria. However, there is uncertainty around the contribution food makes to the problem of AMR in human infections, it said.
"There is a continued need to monitor the prevalence and types of AMR bacteria in retail chicken and other foods to inform a baseline and also assess the risk to public health," it said.
The director-general of the World Health Organization backed antibiotic-free meat production in September.
Following the study's publication, The British Poultry Council (BPC), the trade body for the UK's poultry meat industry, defended its members.
BPC chief executive Richard Griffiths said: "Suggesting that the British poultry meat industry offers anything other than safe, wholesome and nutritious food, produced to world-class health and welfare standards, not only undermines our farmers but also shows lack of knowledge about our sector.
"British poultry meat producers have set an example for other sectors both in the UK and around the world to follow through the sustainable use of antibiotics. We are upholding the UK's position at the forefront of international efforts to tackle antimicrobial resistance and we are proud of our commitment to continuously evolve, and nurture the trust and confidence that our consumers have in our food."