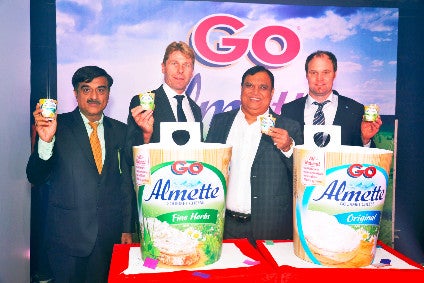 Hochland, the German cheese maker, is to enter India through a venture with local dairy group Parag Milk Foods.
The companies will launch cream cheese Go Almette, which Hochland will produce in Germany, in India, initially in Mumbai.
Almette is one of Hochland's top-selling brands and the companies have decided to tweak the brand name for the launch, using the German group's Almette brand and Parag's Go brand. Two products are to go on sale – original and fine herbs.
"India is a country that has a long tradition in consumption of milk and dairy products. Yes, the cheese market is India is still quite small but on a long-term perspective we see India as a long-term future market for cheese," Johannes Rogg, division manager for new business development at Hochland, told just-food.
Asked why Hochland had opted to launch the Almette cheese in India, Rogg explained: "If you want to catch consumers who are not very much used to cheese, maybe some consumers who haven't eaten cheese before, it is easier to convince them with a product that is very milk and creamy in taste – and is versatile in usage – than if you have a very distinctive or strong cheese taste, like camembert, emmental or a blue cheese."
The cheese is being targeted at wealthier consumers who eat western-style breads. "These consumers do not only consume traditional Indian dishes and breads. They are also consuming sandwich bread or toast bread or a baguette, which is available in the metro cities," Rogg said.
The product will be sold in modern retail outlets, including hypermarkets, supermarkets and smaller outlets. "In India you have a lot of small, neighbourhood supermarkets that does not belong to a chain. Parag has a well-developed distribution network, with partners all over India. At the moment, we are starting in Mumbai but then also go to Delhi, Pune and to Bangalore. This will be the first four top cities we are distributing the product," he said.
The companies will also be looking to distribute the cheese through Parag's home delivery service in Mumbai that sells products under the Indian's group Pride of Cows brand. "The customers of this home-delivered milk will get free samples of Almette," Rogg added.
Parag chief marketing officer Mahesh Israni said: "India is the next big market in terms of imported cheese consumption, there is growing demand driven by India's young demography who are more experimental and willing to try new gourmets."
"We have significant plans for marketing Go Almette and will be leveraging ATL activities in association with lifestyle and sports channels, out-of-home and digital media. We also plan to tie-up with major e-commerce portals wherein consumers will be able to place an order online as well. With regard to the on-ground activities, we will be conducting in-store promotions through sampling our products."