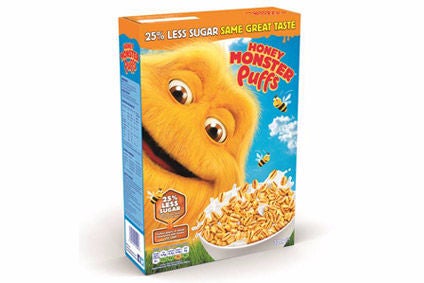 Brecks, the UK cereals and meat-free supplier, believes the Honey Monster and Good Grain brands can enjoy growth in the country, where the business has attained the licence to the products from Finland's Raisio.
"Honey Monster Puffs and Good Grain are great brands with fantastic potential for further growth in the UK, and we look forward to applying our experience to take these brands on to their next level of development," Brecks founder and managing director James Hirst said.
Brecks will market and sell the breakfast cereals in the UK from July following a deal with Raisio, the owner of the brands, that was announced yesterday (13 April). Financial details were not disclosed.
Raisio has struggled in a mature UK breakfast sector. At the end of last year, the company closed a breakfast cereal and snack bar factory in west London, saying the move would make its business more competitive.
In February, when Raisio reported its financial results for 2015, the company described the year as "challenging in many ways" for its UK cereal and snacks business. It said competition "intensified" as retailers, for example, reviewed the way they promoted products and "tightened their selection criteria". Net sales from the unit were "almost" level with 2014, while the division made an operating loss, albeit a smaller one than in 2014.
Brecks supplies cereals and finished cereal products to confectionery, cereal and biscuit companies in the UK, Europe and Asia, including Raisio. It also manufactures meat-free products for customers in those markets.
However, Hirst said Brecks wanted to move into branded lines. "Brecks is now developing a branded product business – Honey Monster Puffs and Good Grain, which are both covered in this licensing agreement with Halo Foods, will form part of this business. We will be able to talk more about these plans over the coming months." The company is also working on developing branded sport nutrition, diet and healthy snacking lines.
In the year to 31 March 2015, Brecks' turnover stood at GBP11.9m, up 14% on the previous year. Brecks does not give more detailed figures on its sales but Hirst said cereals are "a very large part" of the business.
Raisio acquired the Honey Monster brand in 2011 when it acquired UK-based Big Bear Group. Announcing the deal with Brecks yesterday, Raisio CEO Matti Rihko said: "Ready-to-eat breakfast cereals are not at the core of Raisio's strategy so the licensing of the Honey Monster brand is a good solution that ensures that Honey Monster cereals will continue to be available to British consumers."