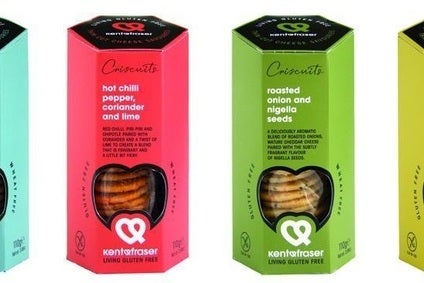 UK conventional, organic and free-from baker Honeyrose Bakery has snapped up local gluten-free supplier Kent & Fraser.
The deal, struck for an undisclosed sum, will boost Honeyrose's gluten-free operation and give the UK-focused firm an international presence.
"They're a pure-play gluten-free supplier. We have gluten-free as part of our range offering but they are very distinctly branded that way," Honeyrose business development director Adrian Apodaca said. "Overnight, we have become an exporter. We're exporting now to North America, Asia, mainland Europe and some other markets."
Apodaca said "close to half" of Kent & Fraser's turnover was generated outside the UK. "We're having a hard time catching up with the interest. We're trying to grow it and keep an eye on quality and make sure that everything's growing as it should be. We're very aware it's a best-of-British brand, dedicated to gluten free and we want to make sure the quality and provenance continues."
In its domestic market, Kent & Fraser has secured listings for its biscuits with Ocado but Apodaca said the firm was "more geared" to the "speciality food market" adding: "We'd like to keep that focus there. It's the right thing for that brand."
With Kent & Fraser focused on gluten free, Apodaca added the acquisition would give Honeyrose – which has listings with retailers including Sainsbury's and Waitrose – the chance to look at extending its core business into new areas.
"Part of the reason the acquisition made sense was we're in the process of evolving Honeyrose. We've a business since 1999 and we were a pure-play organic manufacturer. Now we can also do conventional, gluten free and hybrid combinations. You'll see us move into savoury areas, into kids products, into new areas outside of gluten free but also within the health category. It allows us to have Kent & Fraser purely focused on gluten free and do some really interesting things in other niche areas with Honeyrose. It will always be a natural brand," Apodaca said.
"Kent & Fraser will continue to be specifically gluten-free. Honeyrose Bakery is evolving into several areas including – but not exclusively – gluten-free and organic, as well as natural/health areas. Honeyrose Bakery will have its own gluten-free lines, different from Kent & Fraser."