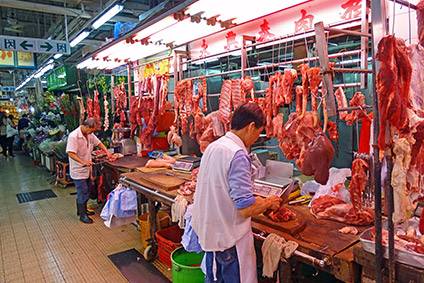 Food safety chiefs in Hong Kong is to limit an import ban on frozen and chilled meat and poultry from Brazil to the 21 plants under police investigation over allegations of corruption in the country's meat sector.
The Hong Kong government said the decision by its Centre for Food Safety was "based on updated information provided by Brazilian authorities who said there is no evidence other plants authorised to export meat products to the international market are involved in any irregularities".
Hong Kong did not reveal the names of the 21 plants, but claimed all "are still allowed by the European Union, Singapore and China to export the products from Brazil".
"To enhance surveillance, the Centre has taken 66 samples at import and retail level for testing since 21 March, yielding satisfactory results," the government said. The Centre will "continue liaising with Brazilian authorities and adjust its actions in response to the latest developments".
The announcement came after Hong Kong's Secretary for Food & Health Dr Ko Wing-man earlier revealed frozen and poultry meat from Brazil had been recalled from outlets across the territory. However, Ko said the scope of the recall was confined to the 21 factories under investigation.
"I believe the targeted recall can gradually restore residents' confidence in the frozen and poultry meat on sale in markets, including the Brazilian products that are not from the 21 factories being investigated," Ko said.
Hong Kong's move followed that of the Chinese government in Beijing, one of the Brazilian meat industry major international customers, which was among a number of countries to either fully or ease bans on imports in the wake of corruption allegations surrounding the meat sector in Brazil.
Over the weekend, China lifted its ban on imports of all meat from Brazil except from one plant named among the 21 under investigation by the Brazilian police.
Brazil has itself banned exports from the 21 sites. According to Reuters, the only one of the 21 facilities that had been shipping to China is owned by a unit of JBS, one of Brazil's largest meat processors. China's ban on meat from that facility, as well as any meat approved by seven Brazilian veterinary experts linked to the police investigation, remains in place, Reuters said.
The EU has suspended imports from four Brazilian meat facilities approved to ship to the bloc and which are part of the 21 being investigated.