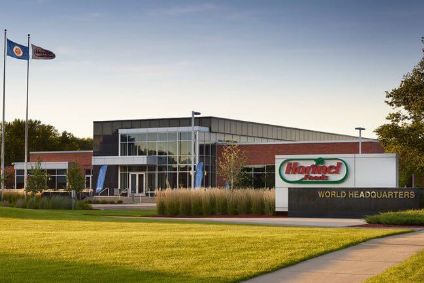 US manufacturer Hormel Foods expects another quarter of Covid-related declines in its foodservice business even as the hospitality sector starts to reopen.
The Spam meat owner, meanwhile, also stressed it will struggle to meet seasonal demand across some categories in the retail channel due to depleted inventory levels.
Hormel reported its fiscal third-quarter results yesterday (25 August), and noted sales reached a "record" US$2.4bn, up 4% – and by 2% in organic terms – amid elevated at-home demand linked to coronavirus.
However, sales to the out-of-home market declined 19%. Hormel sells meat and poultry products through the foodservice channel, including the Fire Braised brand, as well as pizza toppings. It also offers private label.
Hormel chief executive Jim Snee, addressing analysts on a post-results call, said the foodservice sector "will be in recovery mode for quite some time" due to uncertainty about how quickly casual dining and schools will reopen.
And Snee believes the foodservice sector in the US could look very different once the country, and the global economy, emerges from the pandemic.
"The fact is that it's still significantly behind a year ago," Snee said during the Q&A session when asked for more colour on the outlook for foodservice. "For us, it is all about what does foodservice look like in the future, how does the industry reimagine itself, what are the emerging segments that will come from this?
"We do believe that food away from home is just such an ingrained behaviour in our society that it is going to continue in some way, shape, or form, but it probably will look different for the foreseeable future."
But as more consumers ate at home, the increased demand at the retail level has eaten into its inventories, particularly as the company had to pause production at some manufacturing facilities because of Covid-19 cases.
Snee said: "In many businesses, we are producing more products than we ever have to meet the increased demand. In other businesses, factors such as limited labour availability and short-term inefficiencies due to Covid-19 safety measures are limiting our ability to meet the high levels of demand we are seeing.
"Further, the third quarter is historically when we build inventories to meet the seasonally high demand in the fourth quarter. However, the record sales in our third quarter has led to abnormally low levels of inventory, which further limits our ability to meet demand in key categories."
He added that the Skippy peanut butter owner expects to incur a further $20-40m in Covid-related costs in the fourth quarter, in addition to the $40m in incremental costs taken for the reported quarter. For the full year, Snee said total costs will amount to between $80m and $100m.
Providing more context on inventories vis a vis demand going into the fourth quarter, finance chief Jim Sheehan said the most-affected categories are likely to be grocery products and refrigerated foods with inventories of finished goods 24% lower than last year.
Sales of refrigerated goods rose 5% in the third quarter to 26 July, while grocery products were up 7%. But the Jennie-O Turkey Store posted a 4% decline.
In the broader results, Hormel reported a 2.8% drop in operating income to $249.6m, while pre-tax earnings were down 1% at $259m. Net earnings fell 2% to $203.3m.
Snee said: "We were making excellent progress in many areas, but the cascading impact of three plant pauses throughout our vertically integrated supply chain had an outsized impact on profitability this quarter. As such, the overall earnings decline this quarter is not reflective of where I believe this business is going.
"As we look forward for the total company, we expect the fourth quarter to mirror many of the dynamics we experienced in the third quarter. We expect continued strength from our retail businesses as consumers engage with our brands at elevated rates."