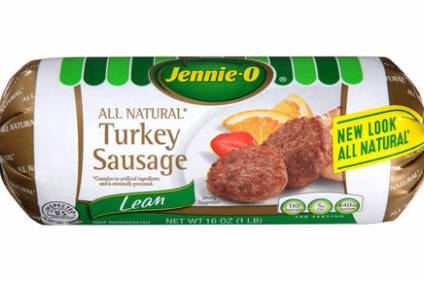 Hormel Foods has launched a preservative-free "all natural" turkey sausage line under its Jennie-O brand in the US, aimed at meeting what it said is growing demand for "clean-label foods".
Hormel said the new "lean alternative to traditional pork sausage" comes with a "simple, clean ingredients list – just turkey, salt, sugar, a blend of spices and rosemary extract".
Brand manager at Jennie-O Turkey Store Mary Wieland said: "As more of our customers begin to look toward foods with simple ingredients, we are thrilled to offer a delicious turkey sausage, free of preservatives. Home cooks will love how easily the product can be added to their go-to recipes – from a lean protein added to classic breakfast dishes to a quick and tasty homemade pizza topping."
Available in Original and Hot varieties, the "newly-formulated product delivers both improved flavour and nutritional benefits, with reduced sodium content and only 110 calories and 6g of fat per serving", Hormel said. "It is also minimally processed and free of BHT, BHA and other common preservatives."
Hormel said analysis by US-based market research firm NPD indicated "interest in natural and clean label foods has grown over the last several years into a major food trend". NPD research showed, as of December 2015, "more than 30% of consumers were cautious about serving foods with preservatives compared to 24% 10 years prior" Hormel said. "The research group's 2016 Report on Eating Patterns in America indicates consumers' focus on "purity" in food will continue. The annual study shows people are seeking out minimally-processed items and expectations are growing for food labels to highlight natural, recognisable ingredients."
Jennie-O All Natural Turkey Sausage is now available at stores across the US. The Hot flavour will be available later this month.