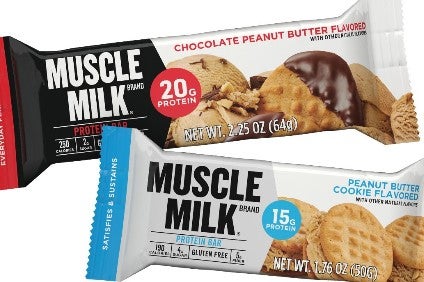 Hormel Foods has added protein bars to the range of Muscle Milk products it sells in the US.
The bars join a Muscle Milk line containing shakes and powders.
Hormel said it was making 12 "inspired by ice cream flavours" available, with the bars containing either 15 or 20 grams of protein. Depending on the type of bar, the products contain up to 250 calories. Flavours include blueberry waffle cone and cookies and cream.
"The Muscle Milk brand is synonymous with great taste, and our new protein bars certainly deliver on that promise," Greg Longstreet, the president and CEO of Hormel subsidiary CytoSport, said. "They're a great snack or meal replacement, and offer quality protein to fuel workouts and support recovery."     
The Justin's peanut butter and Spam canned meat business acquired Muscle Milk when it snapped up owner CytoSport in 2014.
In February, Hormel said it was to launch its first plant-based protein line. The company's CytoSport arm created Evolve, a plant-based and vegan drink, which, as well as being free from dairy also contains no soy nor gluten.
Hormel is also putting Evolve protein powder on sale and is lining up the launch of Evolve protein bars later this year.