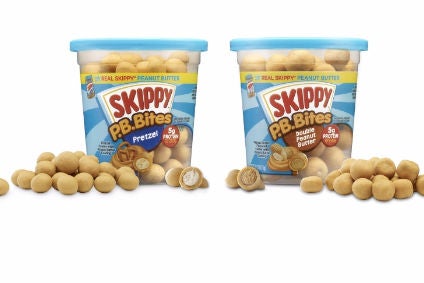 Hormel Foods, the US group behind brands including Spam and Muscle Milk, today (18 May) lifted its target for annual earnings after what it called a "strong" second quarter and its expectation of growth during the rest of the year.
The company is forecasting full-year earnings per share to land in a range of US$1.56 to $1.60, up from its previous forecast of $1.50 to $1.56.
Hormel's new estimate for annual earnings came after the group reported higher second-quarter profits. Net sales rose but only by 0.9% as growth from Hormel's grocery products and refrigerated foods was tempered by declines from the company's three other divisions – Jennie O-Turkey Store, speciality foods and the combined international and other.
Alongside the financial results was the announcement of another acquisition by Hormel. The company has struck a deal to buy US nut butter business Justin's.
In the quarter to 24 April, Hormel generated net sales of US$2.3bn, compared to US$2.27bn a year earlier.
The growth in profits was stronger, with only the international and other division reporting a fall in operating income year-on-year.
Group operating income was up 16.6% at $323.8m. Net earnings grew 19.5% to $215.4m.
Setting out Hormel's prospects for the rest of the company's financial year, president and COO James Snee said: "We look for refrigerated foods and grocery products to continue driving earnings increases through growth in value-added products combined with favorable input costs. Jennie-O Turkey Store is well-positioned to drive sales and earnings growth as turkey production has returned to normalised levels.
"Specialty foods will continue to deliver increased sales of Muscle Milk protein products but may not show year-over-year increases in segment sales and earnings as a result of the divestiture of Diamond Crystal Brands. We expect International to return to growth in the back half of fiscal 2016 led by export sales of our Spam family of products and Skippy peanut butter."