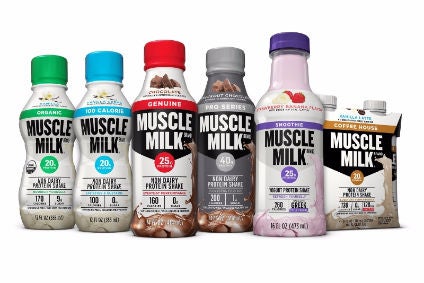 Hormel Foods' sports and nutrition unit Cytosport has announced it is revamping the recipe behind its Muscle Milk protein shakes to cut the amount of sugar and fat they contain.
The firm said the ready to drink shakes now include "updated nutritional profiles" including simplified ingredient statements, the elimination of soy, reduced sugar and a 40% reduction in fat in its Greek varieties.
Hormel also announced it was adding two new products to the range: Muscle Milk Protein Smoothie yoghurt shakes – made with Greek style yoghurt and Muscle Milk Coffee House protein shakes which delivers 20g of protein and caffeine content "similar to a cup of coffee".
"Innovation is essential to our company and we are excited to roll out a new and improved look for our brand while also introducing some very compelling and unique new products within the health and nutrition category," said Greg Longstreet, president and chief executive officer of CytoSport. "We recognise that everyone's protein needs are different, and we must provide products that complement today's lifestyles. Protein is fundamental to helping individuals live and perform better, and we are pleased that these new products will help consumers elevate everyday performance."