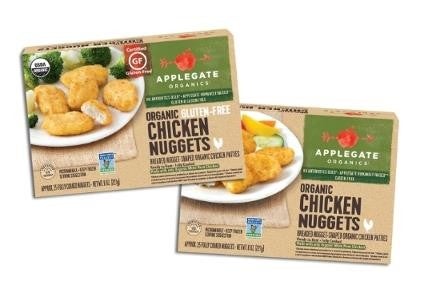 Hormel Foods' US natural and organic meat subsidiary, Applegate, has announced plans to improve animal welfare standards for broiler chickens to ensure the use of breeds "that are scientifically proven to have improved welfare outcomes".
By 2024, Applegate said it intends to "elevate and third-party verify its standards for broiler chickens, to be consistent with the Texas-based Global Animal Partnership (GAP)" – which works to improve farm animal welfare standards worldwide.
Applegate president Steve Lykken said: "Animal welfare is an evolving field, and we are continuously searching for ways to improve the lives of all the animals raised for Applegate to fulfil our mission – Changing The Meat We Eat'. We applaud GAP for addressing broiler chicken welfare issues and look forward to working with them and other organisations, as well as farmers and suppliers, to ensure that new standards provide the best life possible for broiler chickens."
Applegate said it already third-party verifies animal-welfare standards for its entire poultry supply of broilers and turkeys.
The company has now pledged to improve its requirements by 2024, such as providing chickens with more space – with a maximum stocking density of 6lbs/sq ft – and "improved environments, including lighting, litter and enrichments".
In addition, Applegate is committed to "eliminating live shackling and dumping" and, prior to slaughter, "ensuring birds are rendered unconscious through a multi-step controlled atmospheric stunning, which is universally considered more humane".
The corporate engagement director of the American Society for the Prevention of Cruelty to Animals Nancy Roulston said: "Applegate is the first retail brand to address broiler chickens' welfare to this extent at every stage of life, and we hope other brands will follow its lead in pursuing the continuous improvement and transparency in welfare standards that animals deserve and welfare-conscious consumers demand."