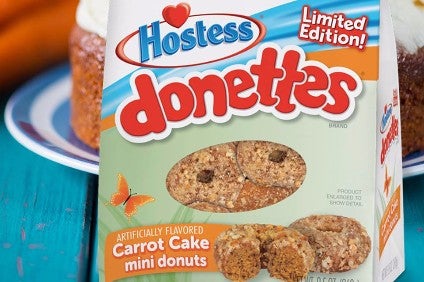 US snack cake maker Hostess Brands has booked rising half-year sales and earnings, pointing to new products and moves to capitalise on "white space opportunities".
The Twinkies and Donettes owner posted a 53.2% jump in first-half net income on a pro-forma basis to US$52.4m for the six months to the end of June, in part boosted by an impairment loss booked in the opening six months of 2016. The company's first-half operating income rose 23.5% to $94.5m.
Hostess said it grew its net revenue by 10% to $387.7m on a pro-forma basis in the first half of 2017.
The pro-forma results are as if Hostess Brands' sale to US private-equity firm The Gores Group, which was completed in November, was made on 1 January last year.
"We are pleased with our continued ability to gain market share, achieve mid-single digit net sales growth and drive profitability in a challenging retail environment, particularly as we cycled very strong results in the prior-year period," president and CEO Bill Toler said.
Hostess reiterated its forecasts of annual net revenue of $781m and adjusted EBITDA of $235m.