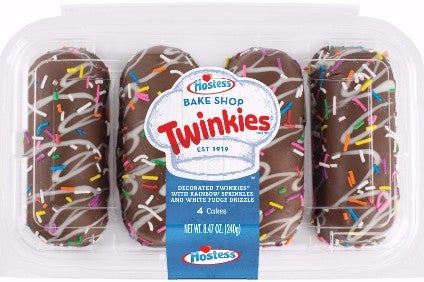 US snacks maker Hostess Brands has cut its forecast for annual earnings amid pressure on costs and "expected headwinds" in the second half of 2018.
The Twinkies owner also cited "reduced promotional support from one of its largest retail partners" as it revised its forecast for adjusted earnings per share from a range of US$0.65 to $0.70 to a new range of $0.52 to $0.58.
Hostess Brands, which also owns brands including Ding Dongs and Donettes, also lowered its forecast for its 2018 adjusted EBITDA. The company now sees its earnings by that metric hitting $190-200m, compared to its previous forecast of $220-230m.
Andy Callahan, Hostess' president and CEO, said: "We expect sequential improvement to our margins in the second half of 2018 and as we progress into 2019, anchoring our overall growth thesis. This includes a disciplined approach to strategically align our pricing and merchandising structure, recapture display volume and ensure the efficient alignment of our distribution and manufacturing network to support our growth.
"Additionally, as we complete the transformation of our Chicago bakery, we believe it will be a platform to profitably expand our presence in the breakfast sub-category. We are confident that the fundamental strength of the Hostess brand along with the results of these efforts will continue to create value for stockholders."
The new forecasts came as Hostess reported its first-half financial results. The company generated higher net revenue but mixed profits.
For the six months to 30 June, Hostess' net revenue was $424.6m, up from $387.7m a year earlier.
However, the company's operating income fell, coming in at $67.5m, compared to $94.5m in the first half of 2017, amid a jump in the cost of goods sold and higher marketing expenses.
Hostess' bottom line improved, helped by lower tax expenses. The group's first-half net income was $53.9m, against $52.4m in the corresponding period last year.