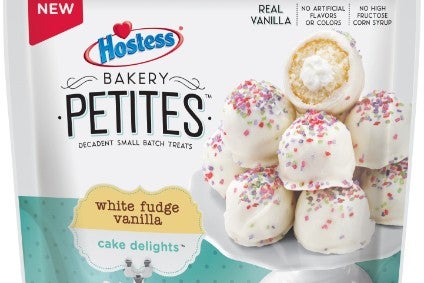 just-food publishes the most notable product development from the international food sector, presented in bitesize format to give you a flavour of the innovation from your peers and competitors announced this week.
Hostess Brands launches bite-sized Bakery Petites
Hostess Brands is targeting adult snackers with the launch of Bakery Petites as the US sweet baked goods manufacturer seeks to appeal to "millennial consumers".
Hostess Bakery Petites are made with chocolate, vanilla, and raspberries, and contain no artificial flavours, colours or high-fructose corn syrup.
The three variations – cake delights, brownie delights, and crispi thins – come in "innovative" resealable, stand-up pouches and are available at retailers nationwide.
Andy Jacobs, executive vice president and chief operating officer, said: "With the tremendous growth in bite-sized treats in the confectionery category, we saw a huge opportunity to innovate with a new premium line that strategically enhances our reach and incrementality. Premium priced snacks are growing and Hostess Bakery Petites – with their cleaner ingredient profile and modern packaging – deliver on that indulgent and upscale snacking experience consumers are seeking."
Pastas Gallo launches Nature 'superfoods' range
Spanish pasta maker Pastas Gallo has launched a new range made with a selection of cereals and vegetables.
Nature is described as a multi-ingredient, multi-coloured, 100% natural product, with at least three ingredients, among which there are several' superfoods' such as quinoa, kale and red lentil.
The range is made up of Macaroni Multicereals with quinoa, malted rye and turmeric, Multivegetables with spirulina, turmeric and beets and Multivegetables with kale, spirulina and carrot.
The RRP for a 400g pack is EUR1,69 (US$2.01).
Burton's brings out Wagon Wheels Teacakes
The UK's Burton's Biscuit. Co. has introduced a new variant of its well-known brand with the launch of Wagon Wheels Teacakes.
Described as "a delicious mallow teacake with a jammie centre", Burton's said it is targeting the smaller, less filling Wagon Wheels at "new eating occasions such as an afternoon snack or a little pick me up".
Mandy Bobrowski, Burton's Biscuit Co.'s UK and Ireland marketing director, said: "We're introducing a modern twist to a traditional teacake, targeting value conscious consumers looking for a great-tasting, but slightly less filling treat that's ideal for sharing with friends and family."
Wagon Wheels Teacakes have a RRP of GBR0.70 (US$0.94) for a 120g pack.