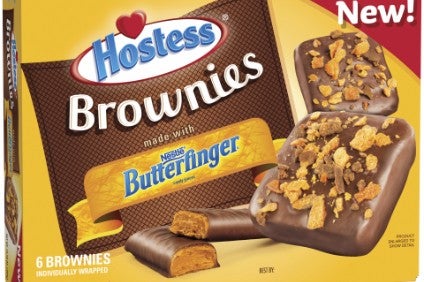 just-food publishes the most notable product development from the international food sector, presented in bitesize format to give you a flavour of the innovation from your peers and competitors announced this week.
Hostess Brands and Nestle launch Butterfinger Brownies
Confectionery firms Hostess Brands and Nestle have joined forces to launch Hostess Brownies made with Nestle Butterfinger candy pieces.
Earlier this year, Hostess launched other chocolate-peanut butter flavour combination products in the shape of Hostess Chocolate Peanut Butter Twinkies and Peanut Butter Ho Hos.
"As we continue our chocolate-peanut butter innovation streak, the brownie segment brings even more opportunities to get creative with our expanding portfolio," said Burke Raine, Hostess Brands' chief marketing officer.
The brownies, developed through a licensing partnership between Hostess and Nestle, are available in multipack and single serve formats in stores throughout the US.
US turkey processor Butterball enters organic market
Butterball is offering organic turkey products in the US on a limited basis, with an eye on further distribution.
The US turkey processor is selling organic whole turkeys and ground turkey are available through a limited offering in designated Costco stores in Illinois, Michigan and Texas.
COO Jay Jandrain said: "We hope to be able to expand our distribution in other retail locations in the future."
Young's Seafood launches 'premium' shellfish range
Young's Seafood, the UK fish and seafood company, is to extend its frozen range with the launch of three shellfish lines.

The introduction of the new lines comes after the brand undertook research that showed consumers lacked inspiration, with two out of three saying they'd like to see new and exciting products.

The new products are:
– Young's King Prawns and Scallops with Lemon and Pink Peppercorn Butter 200g; RRP GBP5.00 (US$6.59)
– Young's Fruits de Mer with Black Garlic and Lemon Butter 250g; RRP GBP5.00
– Young's Jumbo Tiger Prawns 180g; RRP GBP6.00
They will be available from Tesco, Sainsbury's and Waitrose.
France's Sodiaal takes cheese brand Entremont into organic category
Sodiaal, the French dairy giant, is to launch the first organic products sold under domestic cheese brand Entremont.
From March, Sodiaal, which acquired the brand in 2011, will offer organic Entremont cheese in three formats – portioned, sliced and grated.
Sodiaal pointed to the growth of the overall market for organic food in France. Citing local trade body Agence Bio, the co-op said sales of organic food jumped 21% in 2016 to more than EUR7bn (US$8.24bn).
Hain Celestial adds to New Covent Garden soups range in UK
US-based group Hain Celestial is rolling out another line under one of its UK soup brands, New Covent Garden Soup Co.
Hain Celestial said the new Nutri-Soups were "high in fibre, a source of protein and providing two of your 'five-a-day'," a reference to UK government recommendations for local consumers to eat five portions of fruit or vegetables each day.
The Nutri-Soups will be available in three flavours – Asian Souper Green; Chicken, Butternut & Barley; and Buckwheat & Bean Ribolitta.
The company has also added four varieties to its "core" New Covent Garden Soup Co. range and three flavours to the lower-calorie sub-brand, Skinny.
Oppo healthy ice cream expands footprint
Oppo, a healthy ice cream brand made in the UK with 60% less sugar and calories than regular ice cream, has secured new listings with Sainsbury's and Asda.
Made with fresh milk, coconut oil and stevia leaf, brothers Charlie and Harry Thuillier started the brand backed by a "legal health claim" in 2014.
Available in flavours Madagascan vanilla, salted caramel, mint choc swirl (not in Sainsbury's) and Colombian chocolate and hazelnut.
Oppo comes in 500ml and 100ml tubs with a RRP of GBP4.99 (US$6.5) and GBP1.99.
Other stockists include Waitrose, Ocado, Budgens, Holland & Barrett and Whole Foods Market.
Swiss retailer Coop adds third Essento edible insect variety
Coop, the Swiss retailer, has added to the range of edible insect products it is selling.
The products, created by Zurich-based start-up firm Essento, are now available in 12 of Coop's stores.
Since last August, Coop has been selling Essento flour worm burgers and meatballs.
The Insect Bar is made from natural ingredients – crickets, dates, apples, sultanas and cranberries – and sells for CHF3.60 (US$3.60).
Silvio Baselgia, responsible for fresh produce at Coop, said: "The trend is for healthy snacks, which allow you to quickly fill up energy bars. The energy bars respond perfectly to this demand and insects, by their pleasant taste and their high nutritional values, integrate perfectly with their composition. "
Orkla reduces sugar in its Risifrutti range
Nordic food group Orkla is reducing the amount of sugar in its Risifrutti chilled dairy pot product range by 14%.
The company, which launched a no-added sugar version of the rice-based dessert in September, said added sugar will be reduced by 25% by 2020.
Orkla said the 14% reduction means the total amount of sugar – naturally occurring sugars and added – in the rice meal now contains fewer sugar pieces than one banana.
"Taste preferences change over time, and by gradually reducing the amount of sugar, consumers get used to, we contribute to better public health, said Joakim Wictorin, the product's marketing manager.
The Risifrutti range consists of 14 variants.