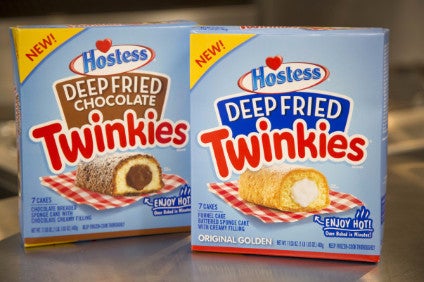 Deep Fried Twinkies are being launched this week at Walmart stores in the US as Hostess Brands LLC makes its first move into frozen food.
Walmart said the new product line of frozen, ready-to-heat Twinkies, in "original gold" or chocolate flavours, will be rolled out across more than 4,000 of its stores nationwide by 16 August.
John Pearson, senior buyer for frozen foods for Walmart in the US, said on the group's blog some Twinkies fans had been deep frying the product for years, a recipie which "is one of the most popular" in an official Twinkies cookbook.
Pearson said: "Very soon, they'll be a whole lot easier to come by. I'm excited that Hostess has made this dream for Twinkie fans and dessert lovers everywhere a reality."
The launch is in line with a commitment made by Hostess Brands last month as part of its blueprint for strategic growth under new ownership. Hostess' owners Apollo Global Management LLC and C Dean Metropoulos and family said on 5 July they had entered into a definitive agreement to sell a majority stake in the company to a publicly-traded affiliate of investment firm the Gores Group for around US$725m.
The snack cake operations of Missouri-based Hostess, which operates bakeries in the US states of Kansas, Georgia and Indiana, was acquired by Metropolous & Company and Apollo Global Management in 2013 after the company filed for bankruptcy.