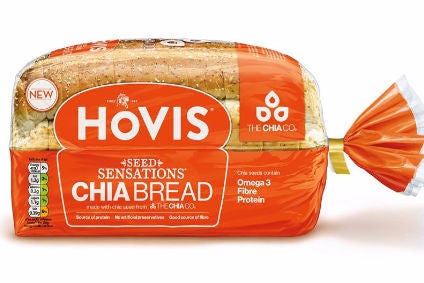 Hovis Ltd is launching a new variety of chia bread in partnership with The Chia Co.
The bread, Hovis Seed Sensations Chia will be the first chia bread to be sold under a major bread brand in the UK, Hovis said.
The product is being released in response to growing demand for products containing chia seeds, with 41% of consumers saying they are "more likely" to buy bread with seeds in it. "One in five consumers have reported eating products like chia several times a week, and this is only set to increase further. Innovation is critical to the bread category and the partnership with The Chia Co. comes at a perfect time to take advantage of this accelerating trend and launch Hovis Seed Sensations Chia bread," Chris Brough, director of market, strategy and planning at Hovis said. 
The Chia Co., which introduced chia seeds to the UK nearly three years ago, stressed the chia sector in Europe is likely to reach GBP449m (US$633.2m) by 2020, citing a study by Nutrition Business Journal.
Founder John Foss said: "Chia products are set to explode on the UK market and we chose Hovis for our first big partnership because we share the same passion for quality and innovation. Hovis has a proud history of delivering high quality products. We, in turn, offer the reassurance of full traceability and the highest quality seeds that a brand like Hovis demands."
Hovis Seed Sensations Chia Bread will be available as a 750g loaf with an MRSP of GBP1.45.