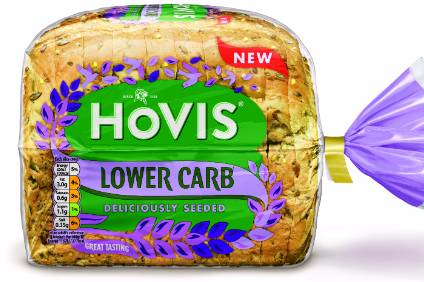 UK bread maker Hovis is launching a range of loaves containing fewer carbohydrates.
The new Hovis Lower Carb range is targeted to meet "consumer needs for a healthier and more balanced lifestyle".
Hovis said the new loaves contain 30% less carbs per 100g compared to other sliced white, wholemeal or seeded bread on the market, "which typically contain 45.8g for white, 39.1g for wholemeal and 38.9g for seeded".
Market strategy and planning director Ed Milner said the new loaves contain "added wheat protein and fibre".
According to Hovis, "31% of consumers cite carbs as a dominant reason to eat less bread".
Hovis said each of the new three 400g "full-size slices" loaves will be on sale from 19 June at an MRSP of GBP1.00 (US$1.27) for Lower Carb Soft & Tasty White and Lower Carb Tasty Wholemeal and GBP1.10 for the Lower Carb Deliciously Seeded variant.
Hovis is majority-owned by US private-equity firm Gores Group, which took control of the business in 2014. Former owner Premier Foods plc retained a minority stake in the company.