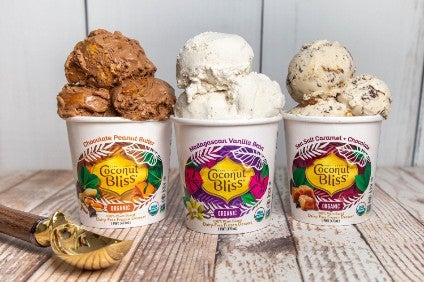 HumanCo, a US investment firm, has taken a majority stake in plant-based ice-cream business Coconut Bliss for an undisclosed sum.
Family-owned Coconut Bliss, which was founded in 2005 in Oregon, manufactures ice-cream tubs and sticks, ice-cream bars and cookie sandwiches, all organically produced and free-from gluten. The non-GMO products are supplied to the retail and foodservice channels.
HumanCo was founded by ex-hedge fund manager Jason Karp and invests in health brands and businesses committed to environmental sustainability. Karp is also a co-founder of Hu Master Holdings, which manufactures vegan and paleo-friendly chocolate snacks free of refined sugar, soy, dairy and gluten, and in which snacking giant Mondelez International acquired a stake last year. He is chairman of Hu Master Holdings after Mark Ramadan, the co-founder of US condiments maker Sir Kensington's, was named CEO last year.
Karp, who is CEO of HumanCo, said the aim is to transform Coconut Bliss into a "globally recognised brand".
He added in a statement: "We love ice cream, but most of the plant-based options don't taste like delicious ice cream or are filled with weird, questionable ingredients. Coconut Bliss does things the right way – they make the most delicious, environmentally conscious, plant-based ice cream that meets both the HumanCo ingredient and taste standards."
HumanCo will also help fuel new product innovation for Coconut Bliss and increase distribution and marketing.
Kim Gibson Clark, the CEO of Coconut Bliss, said: "Coconut Bliss has always been dedicated to real ingredients, minimal processing, organic farming practices, fair trade, and socially-just labour practices with all of our products and suppliers. HumanCo strengthens these commitments by providing shared resources to help our company operate on a larger scale."
just-food has contacted HumanCo for further information on its investment strategy and ambitions.