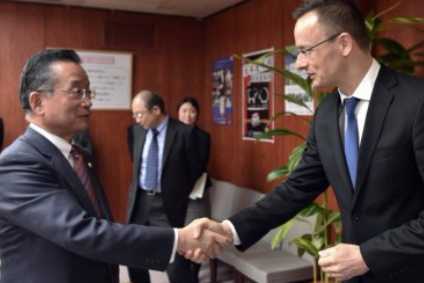 Hungary has signed an agreement that paves the way for a resumption of poultry product exports to Japan "within a very short space of time", after exports were temporarily blocked over avian flu concerns.
Péter Szijjártó, Hungary's foreign affairs and trade minister, announced the move while on a trade mission to Tokyo, during which he also discussed proposals to increase overall food exports to Japan.
Japan was among international markets that imposed restrictions on poultry imports from a number of European Union countries last year over an outbreak of bird flu in Europe.
However, Szijjártó said "we agreed that as soon as the Hungarian authorities introduce all of the measures required to put the disease behind us, the Japanese market will be reopened to Hungarian poultry products".
According to Szijjártó's ministry, "an agreement was also reached on renegotiating the related bilateral agreement to ensure that, in future, the Japanese authorities will in similar instances only have to order an import ban with relation to affected counties, instead of at a national level".
On food exports in general, Szijjártó said: "Japan isn't just the largest Asian investor in Hungary, but is also an important and dynamically-expanding export market for Hungarian goods, and primarily premium-quality products."
Szijjártó said Japan is already the second largest market for Hungarian goods including the Pick salami brand.
In addition, the minister said "the success of Hungarian Mangalitsa pork products in Japan could serve as the foundations for exports of similarly premium quality wild boar products to Japan". He said an agreement was reached to start talks "on acquiring the required permits for importing wild boar meat" to Japan from Hungary.