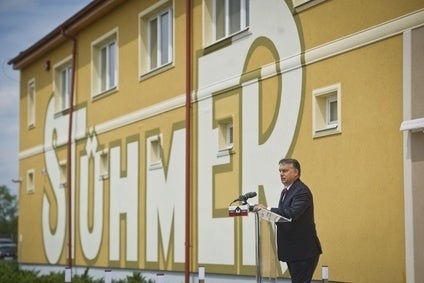 Hungarian Prime Minister Viktor Orbán has unveiled plans to invest HUF300bn (US$1.3bn) to support the development of the country's food sector over the "next few years".
Announcing the move, the government said it hopes that encouraging the growth of Hungary's food sector will "help create new jobs outside Budapest", spur economic expansion and "ensure the stability of the national economy".
In particular, Orbán said the output of SMEs needs to increase. SMEs employ 75% of Hungarians in work.
"Meeting that goal requires efforts to make taxation more flexible and more entrepreneur-friendly. Tax rules should not pose an unbearable burden for businesses," he added.
Speaking at the opening of a poultry facility owned by local manufacturer Stühmer, Orbán repeated his commitment to creating Europe's "most competitive business environment" in Hungary.
According to government figures, the food sector is currently the country's largest employer and third largest producer.
The Hungarian Investment and Trade Agency stressed: "The food industry is traditionally one of the most important sectors of Hungary's national economy…Hungary is the only net exporter of agricultural and food products in the [CEE] region. The industry provides 5.31% of the country's exports."
The Prime Minister's office was not available for further comment on how the government plans to invest in the food industry.