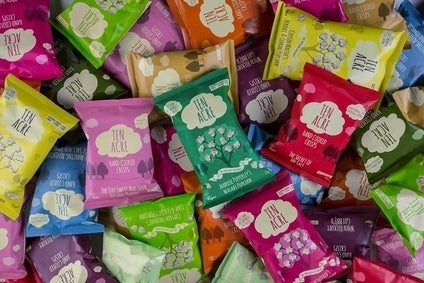 UK crisp brand Ten Acre is set to hit US shelves next month, the latest market for a business set to see international sales surpass domestic revenues this year.
Tony Goodman, CEO of Ten Acre's owner Yumsh Snacks, told just-food he expected the brand to be available in 700 to 800 independent stores "and pick up listings from there".
"We've got a master distributor for the US who sell either directly or through brokers to virtually every retailer in the country. We're starting the roll-out from the East Coast and slowly progressing across the country," Goodman told just-food at the IFE trade show in London.
Ten Acre was exhibited at the Natural Product Expo West trade show in Anaheim earlier this month.
Asked if he was eyeing the large natural chains like Whole Foods Market, Goodman said: "One of the reasons we exhibited at Expo West was because it is aimed at the natural food market and without doubt Whole Foods is the biggest player in the market."
The move into the US comes a little after a year since Yumsh launched Ten Acre. Goodman acknowledged the US was a "massive snacks market" but outlined how the company was marketing the brand in the country.
"For the natural food market, which we're targeting, we're very much focused on our USPs, which is that we are free-from plus. By free-from plus we mean not only are we gluten-, dairy- and MSG-free but we're also vegan, halal and kosher. Also non-GMO. Those markets in the US are massively bigger than in Europe even though they're growing in Europe. We're very much focusing on our natural credentials and the dietary element and that takes us through to the natural food market. There then needs to be crossover into the mainstream market and that requires great taste, quirky branding, British flavours," Goodman said.
He added: "It would be great to think the mainstream would be this year but to be honest the speciality and natural food markets are so big anyway that that roll-out is going to take a long time. This isn't just the US, it's also Canada. Realistically [the mainstream] is going to be next year and beyond."
Meanwhile, Ten Acre is being launched in South Korea, adding to markets in Europe and the Gulf. Goodman said he was also in talks on possible listings in Hong Kong and China.
"We should be going on shelf in by the end of the summer. We're still in discussions but we've got several avenues that we're chasing there and we expect to have something very quickly," he said.
Though Goodman refuses to disclose the company's sales and profits, he forecasts international revenue "will significantly exceed UK turnover" by the end of 2015.
Ten Acre's UK chain listings include Whole Foods and Planet Organics, while it sells into outlets including farm shops, delis and restaurants. It also supplies railway operators in the country.
Asked if he had any ambitions to approach multiples, Goodman said: "I don't think we're yet big enough to be able to ade service the big three."
He added: "It's not where we see the brand identity at the moment and I think it would damage other markets we are in if we did that."