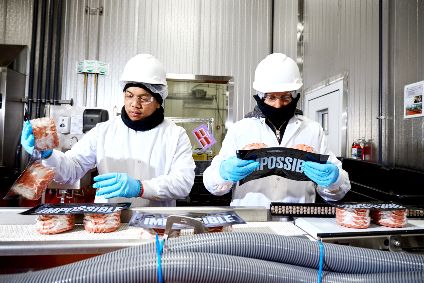 Impossible Foods, the US meat-free upstart, has got the ball rolling on trying to get regulatory clearance to sell its products in the EU.
The California-based business, which markets its plant-based meat alternatives in the US and parts of Asia, has applied for clearance for its key ingredient – soy leghemoglobin.
The ingredient, known as heme, is produced from genetically modified Pichia pastoris and has been central to Impossible saying its products replicate the flavours of meat. Genetically-modified ingredients can be approved for use in the EU but are closely regulated.
A spokesperson for Impossible Foods said: "Impossible Foods' intention is to sell plant-based meat in every single region of the world. As always, the company will meet or exceed all food-safety regulations in every single region of the world, including Europe. Our product is the result of genetic engineering. Specifically, we genetically engineer yeast to produce large quantities of our key ingredient, soy leghemoglobin."
Impossible Foods' use of soy leghemoglobin to mimic crucial meat characteristics has also been a subject of scrutiny even though it has been certified as "generally recognised as safe" (GRAS) by the US Food and Drug Administration (FDA).
Last month, Impossible Foods announced its first retail listing in the US, adding another channel to its budding foodservice business. During the final quarter of this year and in the early part of 2020, Impossible Foods plans to launch the Impossible Burger in "industry-leading grocery stores in key regions".
The burger made its debut in select restaurants in 2016 and is now on sale in around 10,000 foodservice outlets in the US, Hong Kong, Singapore and Macau.
Meat giant OSI Group is to manufacture the Impossible Burger for the plant-based business. Impossible Foods already makes the product at its facility in Oakland, California.