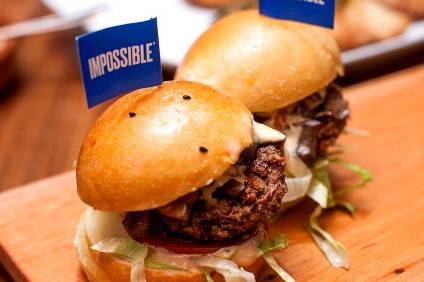 Meat-alternative firm Impossible Foods in California is making its foodservice debut in Canada today (8 September), with the retail channel set to follow later in the year.
Canada represents the company's second international destination for its plant-based Impossible Burger after Asia, it said today. Its burgers are also available in Hong Kong, Macau and Singapore, with China also in the firm's sights.
The patties will make their debut across a selection of Canada's top restaurants, with a fuller roll out in the out-of-home segment expected next month.
"The launch of Impossible Burger in Canada is a watershed moment for Impossible Foods – a proof point and accelerator for the international movement toward a sustainable, plant-based food system," said founder and CEO Patrick Brown.
Impossible Foods, which counts Bill Gates and Singapore's government-owned investment fund Temasek Holdings as investors, added Canada "will soon become the company's largest market outside of the United States".
Earlier this year, Impossible Foods won a trademark spat with Switzerland's Nestlé after it claimed the latter's Incredible Burger, marketed in Europe, was too similar in name to its own Impossible Burger. However, Impossible Foods has yet to launch in Europe.
The company is also in the process of developing a plant-based pork product.
In June, Brown predicted plant-based food will "completely replace" animal products within 15 years.