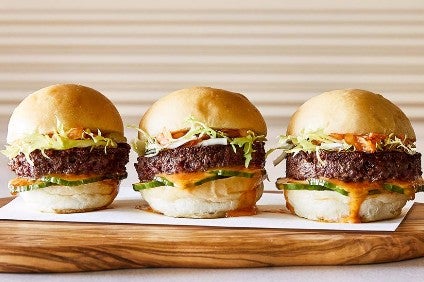 US meatless burger firm Impossible Foods has raised US$300m from investors.
The money was raised in the latest round of fund-raising ahead of a possible initial public offering but the company told Reuters it is in no hurry to go public.
Chief financial officer David Lee told the news agency: "We believe in self-reliance. Being ready to go public is a priority for the company because we need to be operating at the highest level of rigour. But we are not in a rush, nor are we announcing an IPO filing."
Quoting sources familiar with the matter, Reuters said the fifth equity funding round since the company's launch in 2011 values the plant-based burger business at $2bn. It has raised more than $750m in fundraising rounds.
The Silicon Valley-based company is backed by celebrities including tennis star Serena Williams and singers Katy Perry and Jay-Z, while institutional investors include Khosla Ventures, Microsoft Corp. co-founder Bill Gates, Google Ventures and UBS.
Speculation surrounding its IPO plan comes after fellow plant-based burger business Beyond Meat made a frenzied stock market bow at the beginning of this month.
Shares in the California-based business, which sells in the US and in a growing number of international markets, began trading at $25 a share on the Nasdaq stock exchange and ended its debut day at $65.75.
According to Bloomberg, the jump in Beyond Meat's share price on day one was the best debut of any company listing in the US since at least 2008 when considering IPOs that raised at least $200m.
Impossible launched its first veggieburger more than two years ago and the Impossible Burger is now sold at more than 7,000 restaurants worldwide. Fast-food chain Burger King is to launch the "Impossible Whopper," which uses Impossible Foods' plant-based patties, nationwide.
In a response to a just-food query, Impossible Foods confirmed $300m had been raised.
It said the Series E fund-raising round was led by existing investors Temasek and Horizons Ventures.
As for what the investment money will be used for, the company said it is adding a third shift of workers and second production line at its manufacturing plant in Oakland, California, and will be announcing additional expansion plans later this year.
Lee said: "We have cracked the molecular code for meat and built an industry-­leading intellectual property portfolio and brand.
"Our global financial partners are supporting a technology powerhouse that will transform the global food system."